A few weeks before Christmas I was in my local Asda Living store and whilst in the queue to pay for my G21 Animal Print Bodycon Dress my attention was drawn towards the changing rooms and this lovely dress caught my eye as it hung on the rail of try-ons. It was the George at Asda Rose Print Midi Dress (£10, UK sizes 8-20):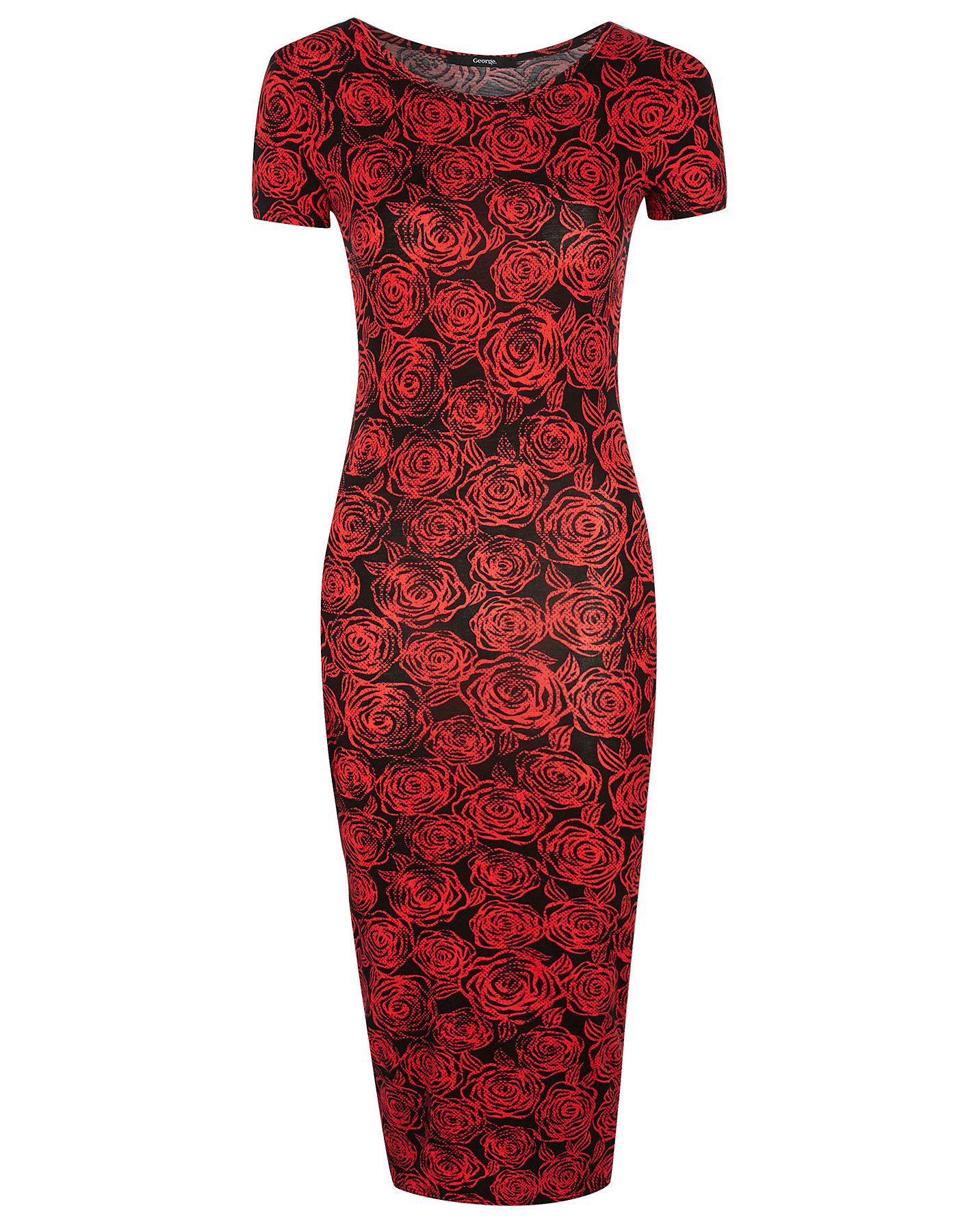 Image courtesy of George at Asda
This was the only one left in store so despite it being a size 14 and what I suspected would be a snug fit I just had to snap it up. At only £10 it was a mega bargain, so it would've been rude not to…





I was right – the size 14 is verrrrrry tight on me, but I reckon I just about get away with it. But, make no mistake; there is no hiding one's figure in a dress like this! The fabric is very slightly overstretched across my widest part – my bottom! – but these photos were taken in harsh fluorescent lighting and I don't think the silvery effect shows up in daylight, thankfully. For reference, I am wearing my Ewa Michalak PL Milady bra 30L/65L in these photos. The boob room on the dress is great, especially considering it's only a size 14.


The print of this fabric is really lovely. It's a classic rose print in a bright red on a black background and it has a kind of mottled effect to make it a bit different. The print is suitable for all ages and can be made to suit with accessories. I am wearing the dress with tights and high heels but I think it would work casually with leggings and ballet pumps.


The t-shirt-like fabric is 97% cotton and 3% elastane so it's light to wear but the elastane content gives a superior fit and shape. It's machine washable so it's super easy to care for and would be ideal for a holiday as you could just throw it in a suitcase and it wouldn't crease easily. Asda have a fantastic and easy to implement 100 day guarantee on all their clothing so anything can be returned for a refund (with receipt) if it doesn't last the test of time so you can buy with complete peace of mind. So this dress is a bargain and it's guaranteed? Wonderful stuff!


The classic midi length of this dress means it hits me at my upper calves. That's ideal for me as I prefer to keep my knees covered and as you can see they easily are.


The neckline of this dress is great. A while ago I wasn't a fan of higher necklines but this one is not so high as to strangle me, but it remains completely decent. I think as the dress is so very figure-hugging on me a lower neckline would have been inappropriate.


The short sleeves are ideal for warmer climes but also are easy to wear at colder times of the year. It's simple to add a shrug, cardi or jacket to cover arms if required, and it would even look great with a long-sleeved form-fitting top underneath.


I added my beloved Forever 21+ denim jacket for a more winter-friendly look:





I love how the blue of the denim contrasts against the red and black print of the dress and I think it works really well. Denim is such a classic fabric and suits all skintones and almost all colours of clothing. This jacket makes my look a little more casual as the jacket has fading down the front. If the jacket was a solid, deep colour I think it would look more dressy. It would also be great to wear a plain black blazer with this dress to give a more formal look.


I am sorry to report that this dress is now sold out but make sure you check out the George at Asda website for lots of other fabulous midi dresses.