I recently wrote about the launch of the new Ava By Mark Heyes collection for online retailer Marisota. Today I am going to tell you about the Floral Print Dress.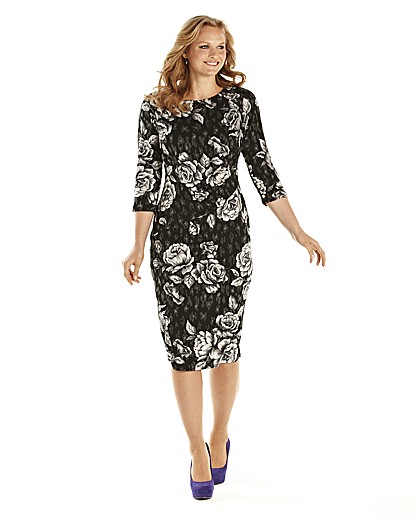 Image courtesy of Marisota
This dress is available in sizes 12-32 and comes in regular and petite fittings. The pattern of this fabric really jumped out at me as I browsed the rails at the collection launch a few weeks ago and I was delighted when the Marisota team kindly gifted the dress to me in a size 14.
The dress is made from 96% polyester and 4% elastane so it is slinky and stretchy. I found it comfortable to wear and easy to put on and take off, without the need for the zip fastening at the back. There is a 100% polyester lining that is also very stretchy; this is not a 'slimming' lining but serves to add a bit of opaqueness to the top layer, which could be a little see-through without it.
This dress is so easy to wear. Its fitted but relaxed cut means that it is ideal for work wear or for an evening out. Accessories can really make this dress and I love how the Marisota team styled their model with colourful heels in the stock photo above.
Like the Illusion Dress, the Floral Print Dress has a higher neckline than I would usually wear but it works really well here. It is not so high that I feel I am being strangled but also it is not low enough to show any cleavage. Perfect for those times when you want to look feminine but modest.
The size 14 proved to be a great fit for me. Yes, there is some excess fabric on the waist but this is down to the design of the dress rather than its proportions. It is not supposed to be super fitted at the waist so this relaxed fit is a nice change to have in my wardrobe.
For me, the only thing this dress falls down on is the length. I wish so much that it was the length of the stock photo, and bearing in mind the model would be at least 5'8 tall, I was surprised to find how short this came up on me. I wondered if I had the 'petite' dimensioned dress but no: I have checked the label and this is indeed the standard one. It's not ridiculously short but for me I would not feel comfortable wearing it bare-legged. I think it would look great with black or even coloured tights – I have some teal ones that I think would look terrific, so all is not lost. For versatility, though, I would have preferred the longer length so that the skirt comfortably covered my knees.
Overall I think this is a terrific dress and it's one that comes highly recommended by me.
Take a look at the Ava By Mark Heyes Collection here and if you like the Floral Print Dress you can buy it here.