A few weeks ago I attended a special bloggers' evening for the launch of the Ava collection by Mark Heyes for online retailer Marisota.



Image courtesy of Marisota

It took place on a week night so I whizzed up to London after work, met up with Hanna from The Wardrobe Challenge and we made our way to Kettner's in Soho where the event was being held.

Mark Heyes' Ava collection has been designed with plus size figures in mind. The clothing is cut to flatter a fuller figure and to be stylish and on trend, whilst also being comfortable and practical.
We had a fabulous evening looking through Mark's new collection and even got to meet him and chat with him for a while. And – best of all – we got to try the pieces on! Cue lots of happy ladies running in and out of the toilets (our makeshift changing room) and lots of oohs and ahhs and admiration of each other in the glamorous clothing. I think Mark really enjoyed seeing us in his designs; it must be such a great moment for any fashion designer to finally see every day people trying on the clothes and loving them.
We were treated to a scrumptious dinner and afterwards the Marisota team shared with us a video on Shapeology, which is a philosophy that underlines their clothing designs and collections. Essentially, Marisota wants to provide women with a number of solutions for our most common wardrobe dilemmas, so a range of videos by Mark Heyes is available at You Tube, and the clothes have been designed to address these issues.
I was lucky enough to take a couple of Ava dresses home to review and here is the first of them: the Ava By Mark Heyes Illusion Dress.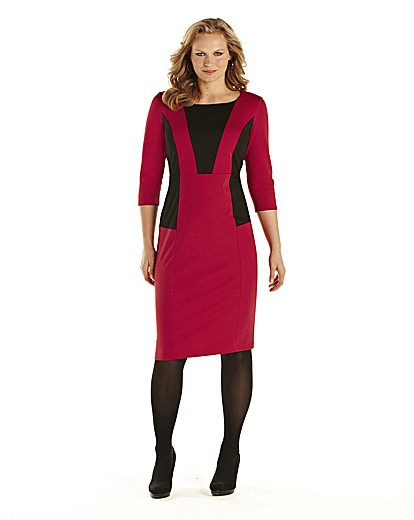 Image courtesy of Marisota
It's a gorgeously vibrant red dress with black panels at the sides, which are designed to slim the waist and hips and reduce the appearance of the bust.
I tried this dress in a 16 first of all but it swamped my waist so I ended up with a 14:

As all hourglass women know, getting a good fit in a dress can be quite a challenge due to the differences between our bust, waist and hip measurements. I often find I have to compromise in some way and usually I can solve the issue of a looser waist by adding a belt. In this case, this would not have been an option due to the side panels, so I had to size down to fit my waist.
The 14 fits well overall. It's perhaps a little snug across my thighs but otherwise it's spot on for the bust, and the waist is pretty good and feels comfortable.
Lengthwise I think it's just about ok, although regular readers will know I tend to favour longer skirts that comfortably cover my knees. I would most probably wear this dress with black tights, rather than the nude ones I have on in these photos. And there is no back split in the dress, so no risk of showing too much and being immodest!
I usually wear lower cut necklines than this but I have to say it's a nice change to have something a little higher. It's not so high that I feel smothered but it does not show any cleavage so it's completely work appropriate. Perfect for any working professional or even for a night out as it's easy to glam it up with some accessories.
The dress fastens at the back with a zip but I found I could easily put it on over my head. The fabric is 73% polyester, 23% viscose and 4% elastane, making it a stretch ponte-like material. It fits well, does not crease easily and is soft and comfortable to wear. There is no inner lining – I was so relieved to find this as often I don't feel comfortable with an additional lining.
Thanks to the stretchy fabric, the boob room is good on this dress. I am wearing my Ewa Michalak PL Ametyst bra underneath but in fact the cut of the neckline would be ideal for my S Wiśniówka bra, which has fuller coverage cups.
I love the 'true' three-quarter length sleeves, which are perfect for this time of year. They give sufficient coverage to provide an extra bit of warmth but not so much that they would make me too hot on a warmer day.
The red and black colourway is a classic combination and one that will work well on a number of skintones. It's sassy and sophisticated – I feel like I really mean business when I wear this dress!


The Ava By Mark Heyes Illusion Dress is only one of Mark's new collection – I have a review of another dress coming soon and you can view the entire range here. What do you think of it?