I have always struggled to find a raincoat that works for me. Either the waist is enormous but the bust fits well, or the bust area is too small but fits on the waist. And what about the hip area? Just as troublesome – either the buttons pull it too tight or there is a ridiculous amount of surplus fabric.


I have tried many different brands of macs over the years but had yet to find anything that worked for me, or that I really wanted to buy.


That is, until February this year when I attended Plus London Two and met the gorgeous Lorna. She was wearing the most breathtaking coat I had ever seen – a Principles by Ben de Lisi mac.



Image courtesy of The Ginger Peardrop
I discovered that she had even blogged a bit about it here. However, I had no idea what size I would need in this mac so – convinced I'd missed out – I let it fall off my retail radar.
A few months later, I saw a work colleague wearing the same mac and fell in love with it all over again. I wanted to ask her if I could try hers for size but I was quite new to my job and didn't feel comfortable enough to say anything without sounding like a complete weirdo, so I kept quiet.
Then, earlier this month, I bumped into Lorna at a press event and got talking to her about the mac. I tried desperately to not sound like some sort of stalker but she very kindly humoured me and answered all my questions.
Shortly after that, I visited Debenhams in Leeds with my lovely friend Camilla and we had lots of fun trying on all sorts of coats and jackets. I loved the ones from Ben de Lisi and Jasper Conran – so stylish! I got a really good idea of what size might work for me. The 14 in both brands was the best fit all over but a smidge tight on the bust, so as long as the coat had a belt of some sort the 16 was much better on the boobs and generally more comfortable all over.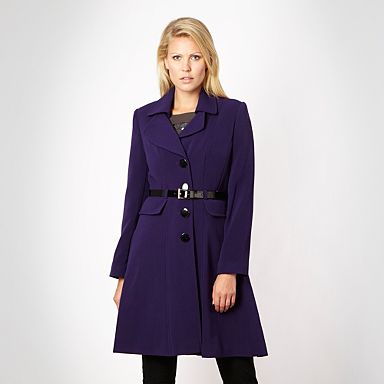 Image courtesy of Principles by Ben de Lisi at Debenhams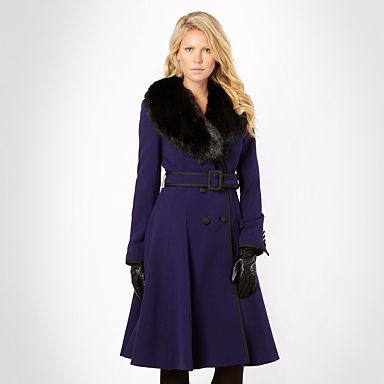 Image courtesy of Jasper Conran at Debenhams
Although these coats were lovely, my heart was set on the mac Lorna had, so I set about trying to find a second hand one on the internet.
It took me a while and a lot of patience but eventually I found this gem in a size 16 on Ebay.
Not quite the same as Lorna's but nevertheless I ADORE it! The shape and style is just amazing and you can tell it's had a high brow designer working on the fit and overall look. It is made from lovely quality materials and although it has been worn by the previous owner I am sure it will see me a long way into the future.
And I still chuckle to myself at the bargain price I managed to nab this at – just under £20 including postage! I feel very lucky to be an owner of such a beautiful mac.
I love how the black and grey work well together to compliment my figure. The grey edging against the black background creates shaping lines in all the right places to make me feel glamorous and stylish. Even though I have only worn this coat a handful of times I have received several compliments about it, including one from my boss! He usually doesn't say a word about anyone's clothing but for some reason he couldn't help but admire this mac – not in a pervy way, just in a kind and thoughtful manner.
I gave the mac a quick wash in the washing machine after I wore it for the first time on a trip to London a couple of weeks ago and it washed up perfectly. The fabric feels very fresh and clean and the belt and wrist cuffs have flattened out nicely.
What I have found particularly interesting is that I think I could have gone for a size 14 in this mac. I wonder if it has stretched out slightly by being worn by the previous owner, or perhaps if Ben de Lisi used to make his coats a little larger overall. Either way, I might see if I can find something in a size 14 to give me more options.
I have been wearing this Principles by Ben de Lisi mac at every opportunity. Even on days when it was cold enough to wear a proper coat I have found it hard to resist this gorgeous number.
I popped it on over my new Collectif dress when I went to a press event recently. My lovely friend Hanna at The Wardrobe Challenge was patient enough to take some photos for me:
You can tell from the stupid grin on my face how much I love this mac!
So, I must say thank you to Lorna for inspiring me to find my own version of her lovely coat. It's wonderful when your friends' fashions can help you work out your own.