I've been a bit quiet on here lately.  Work is pretty crazy and I have been spending a fair amount of time travelling around the country.  I had hoped to visit Bravissimo in Nottingham last week but sadly I wasn't able to get there in time.  I'd really like to go to a store at some point though as I would like the opportunity to try on different sizes in lots of different styles; something that's impossible to do via mail order.
However, I did get the time to visit a large Asda store near Birmingham on Thursday night.  It had a huge George section (for those of you who don't know, George is the clothing line within the grocery store, Asda) and I spent some time wandering up and down the aisles looking for bargains.
I have been buying clothing from the George range for the past couple of years.  During this time the quality has certainly improved, but the prices have also increased.  It's still a great place to shop as they sell such a wide range of styles, shapes, fits and fabrics, but it's no longer the bargain basement it once was.  Their tops are typically priced from £10 upwards, which is a great price but I can remember their tops being 10-20% less a couple of years ago.  I now no longer go into the store and buy pretty much anything that takes my fancy; now I am far more choosy and take my time to try on each item and ensure I really do want and need it.  I probably sound like a right miser now but these days we all have to be really careful with what we spend our hard-earned cash on.
A few weeks ago I visited my local Asda Living store, which carries a reasonable stock of George clothing.  I tried some items on in size 18 but many of them were too big – a fact I only realised after taking some pictures of me trying them out in the changing rooms and showing them to friends on Facebook (thanks girls!).
When I went to the store near Birmingham I tried some of these items on again and found I needed smaller sizes every time.  I thought it would be useful to show these pictures side by side, in a 'before and after' sort of way, so that you can see how the fit compares.
So first of all we have the Floral Print Jersey Dress at £16.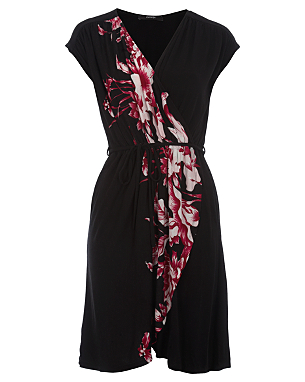 Image courtesy of George at Asda

The dress is 100% viscose and is machine washable.  It has a natural stretch to it and feels very soft on my skin.  The printed pattern has stood up well after being washed for the first time and doesn't look like it will crack or peel off at any point.
If you've read my blog before you will know I am not a fan of my legs so you won't be surprised to learn that I will not be wearing this as a dress but instead as a long top/tunic with a maxi skirt underneath.
Here is the dress in a size 18 (first) and size 12 (second):
Seeing these two photos together makes me realise that you can't see that much difference between the sizes here but I REALLY noticed it when trying on.  The size 18 was loose and very baggy around the waist, whereas the 12 was more fitted all over and showed my waist more clearly – something that is important as I have an hourglass figure.
The dress has a slightly gathered/elasticated waist and comes with a string to tie around one's waist.  I wondered how it would look with a chunky belt instead…
I am not sure that this is the right belt but I think it does look good to have a wide belt with this dress.  It also helps to gather in the slightly loose material on the upper back of the dress, making the whole thing look smoother and a better fit.
Next up, I tried the Jersey Wrap Dress at £16.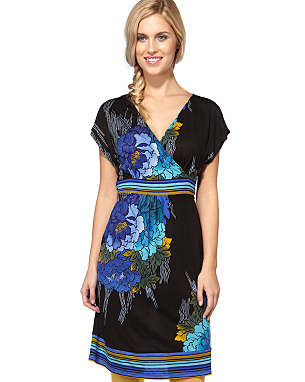 Image courtesy of George at Asda

The name of this dress is slightly misleading.  It wraps over the chest but that is it.  And you can't adjust the wrap at all; it is firmly attached to the waistband of the dress.  Not that this mattered to me – I just wanted to make it clear to anyone reading this and considering buying the dress themselves.
Again, I am not planning on wearing this as a dress.  It will be a long top with a maxi skirt underneath.  I may try it out at home with my lovely shapewear leggings but it remains to be seen if I am brave enough to wear them out in public!
Here is the dress in size 18 (first) and size 16 (second):
I love the colours and pattern of this dress; it is very beautiful and with the black background it is still flattering.  One of my friends said it gave me a mermaid shape when worn with the skirt as shown in pic 1 – what a compliment!  🙂
Going down a size I found the waistband fitted much better and was therefore much more visible and flattering.  The 'wrap' part which covers the chest also came up higher so I could wear it without my modesty panel if I so chose (I am actually wearing a spaghetti strap black dress underneath in these pics; it provides a built-in modesty panel for my tops).
After washing this dress, which is again 100% viscose and machine washable, I found the fabric has developed a very slight fluffy layer, almost as if millions of tiny threads have worked themselves clear of the weaving of the fabric.  I am hoping this has happened as it is brand new and that it is something which will disappear over time.  I am keeping hold of my receipt just in case it doesn't, however!
I also tried the G21 Mix Print Colour Block Dress £12: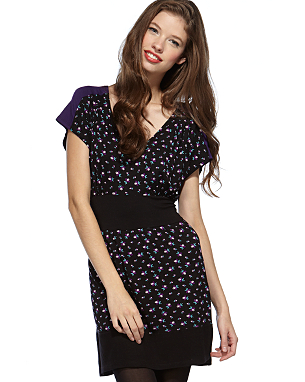 Image courtesy of George at Asda

You can't really see from this website photo but there are purple colour blocks on the shoulders of this dress, making it really unusual in its design.  I like unusual and was therefore attracted to this item.
Here you can see me wearing the dress in size 18 (first) and 12 (second):
My friends advised me that the size 18 was far too big for me as the waist sat too low.  I am short in the waist so wanted to try a smaller size to see if it made a difference.
I am pleased to report that, as you can see from the above photos, yes it did make a huge difference.  The dress was more fitted all over and the waist fits me perfectly, pulling the whole top in most flatteringly.  There is a tie at the back but wearing the dress in this size with the nipped in waist I really wouldn't need to use it.
The dress is 96% viscose and 4% elastane.  It has washed well and I look forward to wearing it next week.  I'll update this post if the fabric deteriorates at any point.
After this, I tried a couple of items I had not had the opportunity to before.
I found this top/dress in the sale – a bargain at £6 (was £12)!  Unfortunately I could not find it on the website but have seen it instore so if you like it, do make sure you get to your nearest George store soon to snap one up as stocks must be very low.
It's a size 16, which fits me very nicely, and is higher cut than many of the tops I wear.  This makes is ideal for work – even with its hint of sexiness with a small circular 'peephole' between the collar lapels and a diamante to add a bit of glam and sparkle.
The top/dress comes with a string tie belt – I never get on well with these as they tend to work their way into any fat rolls/creases which may appear as the day goes on, which is most unflattering.  With my short waist, you can see that the slightly elasticated/gathered waist of this top/dress was a little too low on me (although it looks better when I have adjusted it properly!) so I wondered if it might work with a white chunky belt instead…
Success!  I have not worn this white belt (Matalan, £3 in sale a few months ago) with anything before as its decorative design often clashes with my patterned items so I am pleased to find something that goes well.  It matches the collar perfectly and makes the top/dress look completely different.  It's always a great result when you can get two or more looks from the same item, simply by adding or taking away accessories.
Finally I tried on this pretty Moda Sequin Detail Top (£10):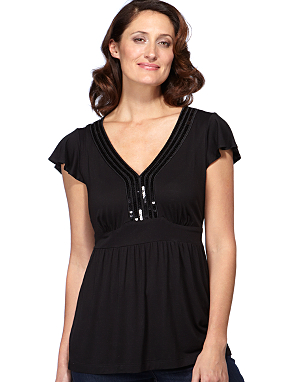 Image courtesy of George at Asda
I could only find it in size 18 and this was too big for me 🙁  Plus I did not have my camera with me this time so could not take any photos to show you the fit – don't tell me you thought that was me in the pic above!!  But I wanted to include it in my post anyway as it would be a great top for the party season and at only £10 it really is a snip.  It fits very well (I could tell this despite the fact the one I tried on was too big for me) and would hide all sorts of lumps and bumps.  I think the top would be perfect for Christmas Day (when we all eat too much and get a bit bloated) as it flares out from the waist.
The downside is that it is handwash only due to the delicate sequin work along the neckline.  I don't get put off my handwash only items these days as I have to handwash my lingerie so it's easy enough to add another top or pair of leggings to the pile.  The fabric comprises 95% viscose and 5% elastane.  I will certainly be looking out for this top in a smaller size in other Asda stores!
I wonder how many items of clothing I have bought in the past were actually too big for me.  I have sometimes bought things which I have liked when I tried them on in the shop or at home but after a few washes and wears I have changed my mind and gone off the shape or fit.  In the future I will certainly be trying on tops and dresses in several different sizes to make sure I make an informed decision – and hopefully only end up buying items which fit properly and flatter me as much as possible.