If you're a regular reader of my blog you will be well aware of my ongoing quest to find dresses to fit my figure. It's not easy as I am different sizes on each of my bust, waist, and hips, but I am always willing to try something different or unusual on the off-chance that it might work for me.
Last summer I was trawling online auction site eBay and I came across this gem: the eBay Jersey Pencil Dress (£9.99 plus postage, UK sizes 8-18/M-XXL).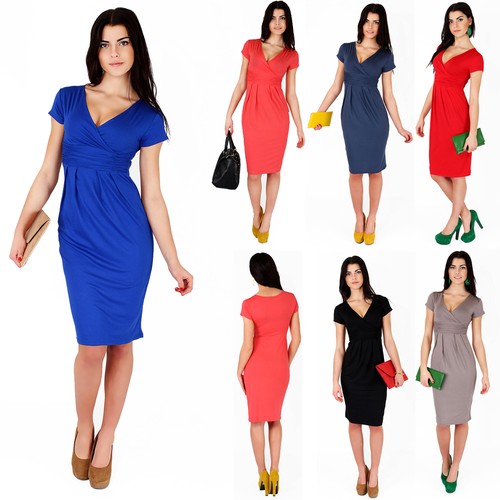 Image courtesy of eBay seller leggingsworld*2010
It caught my attention because it looked something like my much loved (and much worn!) Wallis dresses – as seen here and here – so I decided to place an order to see if they could live up to my expectations.
My quandary was which colours to go for – some were definite yeses and some were absolute noes. In the end I settled on Royal Blue, Graphite, Red and Coral, all in size 14.
The dress was a great fit overall! The size 14 was definitely the right choice as it skims my curves whilst fitting me on the waist. The Royal Blue is a gorgeous, vibrant shade as you can see from my photos. I do love blue and it's wonderful when it's as bright and rich as this.
The dress is made from a soft viscose material that is easy to care for. It's light and quite thin so it probably won't last forever but at under £10 per dress I don't think I can be too fussy! I like the fact there is a decent amount of stretch to the fabric so it's easy to get a great fit and still feel comfortable.
In the item description on eBay the seller makes a point of noting that the dresses were not dyed after washing, as some stretchy fabrics are, which is why we sometimes get that 'silvery' effect when the fabric is stretched. Instead. the fabric is made from pre-dyed thread, so it can be stretched and stretched and it won't go silvery. Thank goodness!


The ruched section across the front of the waist is flattering and works well to hide any lumps and bumps. Ideally I would have liked a little more bust room and for the waist section to be slightly lower, but the design is slightly empire-line with the 'waist' immediately under the bust (intended for smaller busts than mine). I also would have liked the ruched section to be around the back of the waist as well as the front, just like my Wallis dresses. Oh, and I would have liked pockets, too! I don't ask for much, do I?!


I do find that there is some excess fabric on the tummy underneath the waist panel. This is a common gripe of mine and I wish dress designers would not include this feature so often. Even if someone had a more protruding stomach, I don't think it would look better if the stomach was sitting in this 'pouch' area, rather than just taking up space within a more straight cut skirt. This excess fabric adds unnecessary bulk instead of the skirt simply hanging straight down. That said, by going for the smaller size this effect is minimised.


The length of the skirt is really good as it covers my knees. I do like dresses and skirts to be at least as long as this as I am not a fan of my legs and have a strong preference for them to be covered.
As you can see from my photos, the dress is reasonably revealing on the bust so it's not suitable for work without a vest or cami underneath (for reference, I am wearing my Ewa Michalak S Porcelanka Bra 32KK/70KK in these photos). I often have to add a vest to tops and dresses to ensure modesty or appropriateness for the occasion, so I donned one of my DIY cami vest tops to see how it looked.
It works perfectly. Suddenly the dress is transformed and is completely work appropriate. Yes, it's still fairly fitted, but the fact my boobs are a bit more covered up helps to make the dress more modest overall.
I'm wearing leggings in these photos but the dress also looks great with opaque or sheer tights for a more glamorous look.
I normally wear flat shoes or boots at work as I'm on my feet a lot and have to climb a LOT of stairs. So, I popped my size 6 F&F Clothing at Tesco canvas Mary Janes from last summer on for these photos.
Forgive me for talking about shoes as this is really a dress post but I love these canvas Mary Janes so much! I have very difficult feet and although I need to wear flats for work I can't wear ballet pumps as they simply don't stay on my feet. These shoes are a godsend as they are like ballet pumps but the strap keeps them securely where they should be – on my feet!
The soles of these shoes are a little thicker than cheap ballet slippers so they're pretty comfortable to wear, even when spending the majority of the day on your feet. Unfortunately this exact design is not available any more, but Tesco have released a new version for this season with slightly diagonal straps instead of straight:
Image courtesy of F&F Clothing At Tesco
These shoes are only £8 a pair so snap them up before they are sold out! And yes, I have several pairs stashed away already!! I did find I had to go up in size compared to what I'd normally wear; with shoes I tend to wear a wide 5 if it's available, or a 5.5 or 6 if not. In these I am most comfortable in the 6.5, but the 6 fits perfectly well length-wise. I also find that the sole this year is not quite as thick as last year's but it's still fairly good. I do hope Tesco brings these out in a range of colours and prints – I'd love leopard print, polka dots, and red ones (to name but a few…)!
Anyway, I digress; back to these bargain eBay dresses. So you've seen me in the Royal Blue; here I am in the Graphite and in the Red.
(I don't have any snaps of me in the Coral because the one I was initially sent was faulty so I returned it (free of charge – amazing!) and it was replaced very quickly. However as the fabric is a lighter colour it's quite see-through so I will probably dye it at some point. I think purple would be nice, what do you think? I also found I had to size up in the Coral so be warned that it runs a bit smaller than the other colours I tried.)
I love the Graphite and the Red versions of the dress. The former is more subtle and great for work; the latter is bright and 'in your face' so it would be perfect for a night out when you want to be noticed.
All of these dresses have washed and worn well since I've had them; I've probably worn each dress around half a dozen times since purchasing them. Of course they went to the back of my wardrobe when cooler weather arrived late last year, but now it's finally getting warmer here in the UK I will no doubt be calling on these jersey pencil dresses from eBay again very soon.