Polish bra designer Ewa Michalak makes a range of bras in different cuts and styles. There's pretty much something for everyone and with some of the newer releases there seems to be something for every occasion.


A few months ago came the introduction of the 'Grace' collection; lingerie that was ideal for bridal wear.


Image courtesy of Ewa Michalak
The Grace bra comes in both the 3D shape, which is a plunge bra for smaller breasts, and the S shape, which is designed for those with larger breasts.
Image courtesy of Ewa Michalak
Ewa Michalak very kindly sent me the S Grace to try in 32KK/70KK:
The S Grace has lightly padded foam cups overlaid with gorgeously soft cream lace. There is a large cream bow on the centre gore and a pretty pearl adornment underneath.
As always, I adore EM's trademark narrow wires and deep cups. So many other lingerie manufacturers can't seem to work out how to make large cups (I'm talking H up) without crazily wide wires and subsequently incredibly shallow cups. Ewa has got this issue well and truly sorted and I have not yet found bras to match the incredible fit I get from these cups. My breast tissue seems to be all on the front of my body, without any at the sides, and so the narrow, deep cups work perfectly for me. The wires do not poke under my arms and the central gore sits flat between my breasts.
As with many of Ewa Michalak's lightly padded bras, the S Grace has removable pads in the bottom of the cups to help correct asymmetry. I have kept the pads in place in these photos as they help give a bit of extra lift to my breasts and also provide additional sturdiness to the bra. My boobs are very heavy so any extra scaffolding is always appreciated! The pads can cause me a touch of quadboob depending on where I am in my monthly cycle but generally the KK cups are a good fit for me.
The 32/70 band is very comfortable. It fits without digging in or riding up and stays in place all day. As I have quite an extreme 'v' shape to my upper back, I find that rather than a bra's band riding up if it is too big I am more likely to experience my breasts falling out from the bottoms of the cups. Thankfully I do not experience this at all with the 32/70 band so it's spot on for me.
The band fastens with four rows of three hooks and eyes. It's perhaps a little stretchier at the sides than some other EM bras but the front section has almost no stretch at all.
The fully adjustable straps are very plain, with only simple embellishment along the edges to stop the length adjuster sliding with wear. A fantastic feature of the S Grace is that the straps are multiway, so can be worn either in the traditional 'straight down' position, crossed over at the back or even halterneck. (N.B. There is no special halterneck strap provided with the S Grace, as there is with the PL Onyks, for instance, but it would still be possible to wear it this way by buying a halterneck strap from an online shop or the high street.)
Here are some photos to give you an idea of how the bra looks with the straps crossed over:
I had to lengthen the straps to be able to wear them crossed over like this but once I got that sorted I found it very comfortable to have them in this position and actually it was a very odd sensation as I am not at all accustomed to wearing straps across my back. For anyone who struggles with painful bra straps this could be a great option as it changes the pressure point so could provide relief to discomfort.
I found that the cups seemed to fit slightly smaller when wearing the bra in this way. I still have the removable pads in place in these photos and this issue was subsequently solved by taking them out.
The band also fits differently and you can see from some of my images that it gapes at the top. I could probably wear it on the second hooks when wearing the straps crossed over in order to resolve the gaping.
It's really great to have a multiway bra in such a large cup size and to have this option for bridal lingerie will no doubt be a godsend to many a busty bride. However it's really important to note that this is NOT a strapless bra – trying to wear it as one is absolutely disastrous.
I really wish I had been sent the matching briefs or thong and in particular the stunning suspender belt – it's gorgeous beyond words!
Image courtesy of Ewa Michalak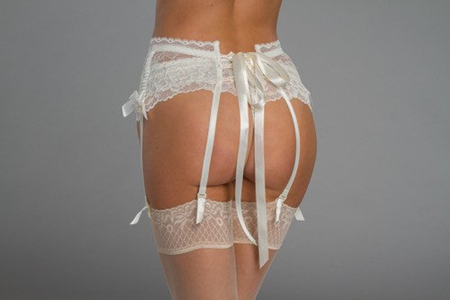 Image courtesy of Ewa Michalak
It's always lovely to review lingerie as a set rather than a standalone bra and I know from your feedback that you as readers prefer seeing the full set, too. The good news is that I have some other Ewa Michalak reviews coming soon that include matching bottoms…so stay tuned.
The Grace range is absolutely beautiful and is ideal for any bride. It's also great as an almost-white-but-not-quite lingerie set and looks wonderful against tanned skin – even mine, which is artificially tanned!