Earlier this year, online plus size retailer Simply Be worked with three bloggers to design their dream dresses. It was such a wonderful opportunity for Laura, Lauren and Em and they each came up with a unique design that was very typically 'them'.




My favourite of these dresses was always Em's. The other two are lovely and they look great on Laura and Lauren (and other bloggers who've tried them) but they are just not my style or my colours. Em's, however, is spot on for me in so many ways. I adore the print and colours and the shape looked as though it might work, although I was wary of the ruching at the sides in case it added bulk.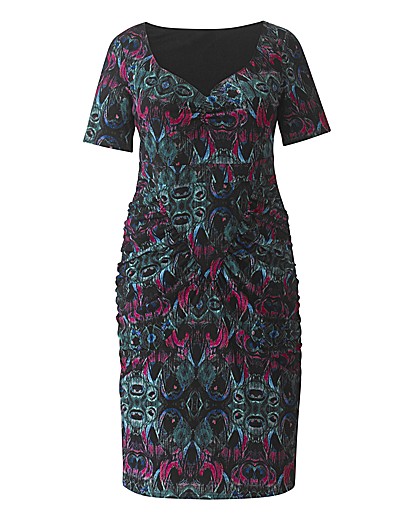 Blogger Em Boombands Dress in Collaboration With Simply Be Designed For You
For one reason or another, I never got round to ordering one of these beauties to try for myself. But when I saw Leah wearing hers at the recent Gok Wan shapewear launch I was so impressed with how fantastic it looked on her I knew I had to order one immediately!


I wanted a snug fit so I went for a size 14 (the dress is available in UK sizes 14-32).





Well, I certainly got the snug fit I was looking for! It turns out the dress is very form-fitting and there is no hint of bagginess or bulkiness. The fabric is machine washable and 96% polyester and 4% elastane so it's super easy to wear and care for.


The neckline is just lovely as it reveals a touch of cleavage but not too much. I found that the boob room on this dress is pretty good depth-wise, but unfortunately there is not enough room length-wise. The waistband comes up quite high and you can see in my photos that it's actually sitting on my lower bust. I really can't stand clothing where the underbust seam or waistband is sitting on the bust so I felt really disappointed that this lovely dress was not going to work for me.


I have wondered about sizing up as I really do adore the peacock print and the shape of the dress but sadly I don't think doing so would solve the high waistband issue as it's a design thing. On top of that, the waistband is too big for me, and ordering a size up would mean a bigger waistband. I could cry!


The size 14 is a little snug on my lower half so I think a size up there would be good and as the cut on this part of the dress is very curve friendly I don't think it would give the added bulkiness I was concerned about.


The print is even better in real life than it is on the screen. I know that's hard to believe because it looks pretty wondrous on a computer screen but I promise it really is AMAZING. The jewel tones blend together beautifully and I love how the pink contrasts against the blues and greens.


The short sleeves are a great length and they do not cut in or chafe. It's very clear that a plus sized person has been closely involved in the design as it's small things like this that make all the difference.


Length-wise the dress is good on me as it hits just below the knee. As the skirt is tight I suspect it would ride up with wear but that could be solved by sizing up.


Unfortunately I had trouble with the back of the dress. There was quite a bit of excess fabric and it kind of hung and clumped in a rather awkward way. This was partly because the dress wasn't quite sitting in the right place on me but also because it's been cut for someone with a more average figure and therefore less of a difference between waist and hips. I was glad it didn't have waist ties though – I find those always add unnecessary bulk and attention at the back.


Despite absolutely adoring the print of this dress and the cut of the skirt, ultimately I had little choice but to send it back. Such a shame! However it's SO lovely that I still highly recommend it if you're a bit less busty and hippy than me. Do let me know if you give it a try – I will be green with envy!