Earlier this year, UK plus-size brand Simply Be launched the Spring/Summer 2013 range from Anna Scholz. It comprised a range of lovely items, all with Anna's signature bold prints and/or feminine shapes.


I was offered the opportunity to try something from the range and I immediately chose the gorgeous Cowl Colour Block Dress: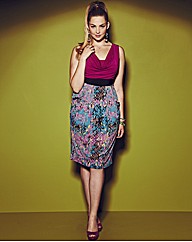 Image courtesy of Simply Be
I had previously seen this dress on the gorgeous Mhairi so knew it would be a great look for my voluptuous figure. The dress is available in sizes 14-32 and I went for a size 14 – I wasn't disappointed when it arrived:
This dress is right up my street! The colours are gorgeous – from the pink/purple top to the multi-coloured skirt featuring pinks, blues, yellows and blacks, it all adds up to real eye-catching piece. It's bright without being garish and is the ideal dress to wear on a girls' night out or on holiday.
The silky, stretchy fabric is 95% polyester 5% elastane (machine washable, yay!) and it feels wonderfully soft. Lengthwise this size 14 dress is around 39″/99cm, which falls on the knee for me. It's a great length as it shows a bit of leg but is not immodest.
The top section features a cowl neck with a mock insert so there is no chance of having a wardrobe malfunction. Always very reassuring for a busty woman! And I love how the skirt has fully functional pockets (which, incidentally, meet in the middle) – such a handy feature.
The waist was not a bad fit on me but the top section was slightly too small so it pulled the waistband up to my underbust. I therefore felt the dress would look better with an obligatory belt.
Much better! The belt helps to define my waist and brings the dress in much more than before. I'm wearing a patent black leather belt here but I think a plain belt would look good, too. I also think it would be fun to try a belt in another colour from the skirt.
Being sleeveless, this dress would require a cover-up for cooler times. A shrug would look great, as would a long cardigan or a denim jacket. It would be easy to choose something appropriate for the occasion as this dress is so versatile.
I absolutely adore this dress. It is the perfect combination of being fun yet stylish, and comfortable yet feminine. Anna Scholz has designed yet another winning piece for SImply Be with the Cowl Colour Block Dress and I cannot recommend it highly enough!