I was recently contacted by Marisota to see if I wanted to review something from their Autumn/Winter collection for this year and of course I jumped at the chance. It's always so flattering to be asked to do this and seeing as I had been eyeing up several items I knew I would have a great selection to choose from.
I wanted to get something special and I was particularly attracted to some of the items from the Coleen Nolan collection, as they are glamorous and great for special occasions. Coleen says the following of her collection on the Marisota site:

"With clever ruching, flattering cowl-necks and pleated sheer sleeves, my Saturday night collection covers a whole manner of sins! Luxe details, such as the jewelled beads on this gorgeous maxi (see below), provide a touch of glam for those extra-special occasions."



This maxi is lovely and the panel around the waist helps to nip in at the narrowest point – very flattering! This dress wasn't the sort of thing I was looking for but I think it suits Coleen perfectly. (For those of you who don't know, Coleen Nolan is a tv personality over here in the UK.)
After much thought and consideration, I decided to go for the Coleen Nolan Ruffle Dress.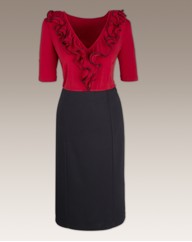 I love the combination of red and black – such a classic – and the ruffle looks so pretty and feminine. My only concern was that the top half of the dress would be too long for me to wear a belt with it as it might interfere with the ruffle but I decided to go for it anyway.
As the dress is made from 95% polyester and 5% elastane and therefore had some stretch, I decided to go with a size 12, which is the smallest size available in this range.
The dress was a great fit! I was wondering if it might be too similar to the Simply Be Glamorosa Dress I'd got a little while ago but actually it turned out to be pretty different. The most notable difference between the two is the fabric – this one is made from a shiny jersey-like fabric that is light and comfortable. It slips on over your head so there is no fiddly zip to contend with, which is a great relief for single ladies like me.
The red part of this dress is a lovely bright pillarbox red and the black skirt and edging on the ruffle sets it off perfectly. The ruffle adds a delicate girly touch and the v-neck is plunging but not overly so. I love the three-quarter length sleeves which will be perfect for wearing this dress on cooler evenings.
Underneath the skirt is a hidden secret – a smoothing slip! I had no idea the dress had this as it is not mentioned in the item description on Marisota but I think it is a fantastic touch. It does make a difference. In all of these pics I am not wearing any shapewear at all and although I think I would do so if I was going out it shows how the slip makes a difference.
As you can see from the photos above, the dress doesn't sit quite right on me without a belt. It's a little big in the waist and my boobs take up more room than my back, making the dress appear a little wonky from the side.
I therefore decided to add my trusty elasticated belt and this was the result:
Hurrah! The belt makes all the difference and really completes the dress for me. I fastened it so the clasp is at the back because I do not want to have any extra fussiness at the front as the ruffle of the dress is enough.
Length-wise the dress is great for me. It is 41″/104cm long, which falls just below the knee. This is a very flattering length on me and as I am rather wary of showing off my pins it means that I feel comfortable but feminine.
I really love this dress and know I will get a lot of wear out of it. Bodycon dresses seem to work very well on me and my curvy figure. What's your favourite style of dress?