I have got lots of different dress reviews on my blog – from maxi dresses to fitted dresses and flared dresses. But all of these dresses have something in common: they are all made from either jersey or viscose/elastane, which are both very thin fabrics. With the cooler months heading towards us at top speed, I have been turning my attention to items available in thicker fabrics which are more suitable for cooler temperatures.


Thankfully, Simply Be have released their clothing and footwear collections for Autumn/Winter 2012. And what a lot of beautiful items they have for us all!

A couple of weeks ago, the lovely people at Simply Be very kindly offered to send me an item of my choice for review; well, you can imagine the difficulty I had making my mind up from all the lovely pieces available.


In the end, I had a think about what was missing from my wardrobe and realised it was something from the Simply Be Glamorosa range.






Previously known as 'Simply Voluptuous', the range was rebranded in early 2012 as 'Glamorosa': a range of clothing designed to fit a bigger bust.


The range is available in three fittings:


Standard fit – cup sizes B, C, D & DD
Voluptuous fit – cup sizes E, F & G
Very Voluptuous fit – cup sizes H, J & K+


The amount of items available has increased as the year has progressed and at the time of typing this blog post I found 14 different pieces of clothing on offer, from dresses to tunics and blouses.


Personally, I feel that bust-fitting clothing is the way forward so it is very exciting to see that Simply Be are embracing this movement and developing it with every new collection.


So, I had quite a few items to choose from, including:


The Glamorosa Skater Dress – lovely, but not a style that works particularly well for me. Such a gorgeous colour, though!



The Glamorosa Jersey Dress – again, it's a lovely colour but the notch neckline would not work for me. However it's perfect if you're looking for a formal dress with a higher neckline.
The Glamorosa Tunic – so pretty but personally I prefer more of a fitted shape as I find it more flattering for my figure.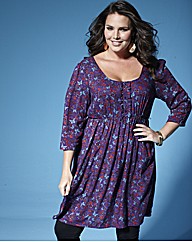 However, there was one dress that absolutely leapt out from the screen at me: the Glamorosa Dress in Pink/Black.
I ended up going for a size 14 in the Very Voluptuous Fit as the item description confirmed that this dress would have a reasonable amount of stretch to it as its composition is 79% polyester, 13% viscose and 8% elastane.
It's a lovely dress which, being 39 inches long, falls just on the knee on me (I am 5'4). There is a small split at the back which helps when walking/climbing stairs as the skirt really is rather fitted and does not allow an awful lot of room. I quite like my skirts like this, providing they don't restrict my movements too much, as it means I will get a more flattering silhouette.
The fabric is certainly thicker than the thinner jersey-like fabrics I have been wearing recently, which makes it perfect for colder months. I was pleased to note that it's machine washable – thank goodness this won't be yet another item to add to my ever-growing handwash pile!
The dress fitted me well in the bust, although if I was being particularly fussy I could have done with another inch or two for breathing space. But don't forget that I am at the upper end of the scale in terms of fit for this dress so really it did well to encase my generously sized boobs! I would recommend this fit if you are, as the size chart suggests, between an H and K cup.
The colour of the top half of the dress was beautiful. I hadn't known what to expect as the picture shows it as more red than pink (which would have been lovely too) but it turned out to be a very deep fuchsia colour. Feminine and pretty, but also professional and glamorous at the same time.
The cap sleeves were a nice length as they covered the top section of my arms but left the rest free. I think I would have quickly got too hot if the sleeves had been any longer.
The dress fastens with a zip at the back. I haven't had to zip up a dress for as long as I can remember as all the dresses I own are stretchy and therefore they only require putting over my head in order to get them on. This dress took me a few goes to get used to doing up and undoing the zip, but now I would consider myself an expert in this task and find it no problem at all.
I love how this skirt has little pockets at the waist. They are so cute and are bound to come in handy when needing to have a tissue or small change at hand. I found the flaps at the pockets poked out somewhat but this can be easily remedied with a few stitches or some Wundaweb to make them stay down for good.
My only trouble with this dress was the waist. It was around four inches too big for me overall. However, with my crazy measurements of 46-30-47, I was expecting this to be the case so it didn't come as a huge surprise. I could not have sized down as 14 is the smallest size available but in any case the skirt and bust were snug enough without going any smaller. I could address the problem of the waist by taking it in with a few simple stitches but I decided the simplest and quickest solution was to raid my massive belt collection and give a couple of different looks a try.
First of all, I teamed the dress with a grey/pink/black fun leopard print elasticated belt I had bought from eBay a while ago. I hadn't worn it before now because it wasn't as wide (i.e. tall) as I'd hoped and I hadn't found an outfit I would want to wear it with…until today! The pink of the dress matched perfectly with the pink in the belt and I thought this was a fun contrasting option.
My second option was a plain black elasticated belt which had been very kindly donated to me a few months ago. I have worn it on several occasions because it is lovely and wide and really helps to accentuate my waist.
This dress, teamed with a belt, helps to show off my extreme hourglass curves beautifully. The top and skirt sections hug my figure and the belt pulls me in at the waist.
I was a little disappointed to find that the zip did not like to lie flat when I added the belt, and there was a bit of bra show under the arms, but both of these are minor gripes which certainly won't stop me wearing this dress A LOT in the future!
I don't think it's suitable for work for me as it's got such a lovely wide cut neck that rather a lot of my cleavage is on show at once; however, jazzed up with some accessories it would be great for a party or a night out with the girls.
The Glamorosa Dress is available from Simply Be in Standard/Voluptuous/Very Voluptuous fits in sizes 14-32 and in colours pink/black and black/black.