I went shopping yesterday and happened to visit a nearby Asda superstore. You're probably wondering why I am talking about a supermarket on my blog…but here in the UK supermarkets no longer just sell food and drink. For several years now they have been expanding into new markets, including electricals, banking, toys, books and – hurrah – clothing!


'George' is the name for the range of clothing available at Asda. I have blogged about them before because they have a wide range of clothing in many different styles and all at great prices.


A few days ago, I had a conversation with the gorgeous Kitty over at Undercover Lingerista about some of the dresses on the George website. One which had caught her eye was this Moda Printed Jersey Dress: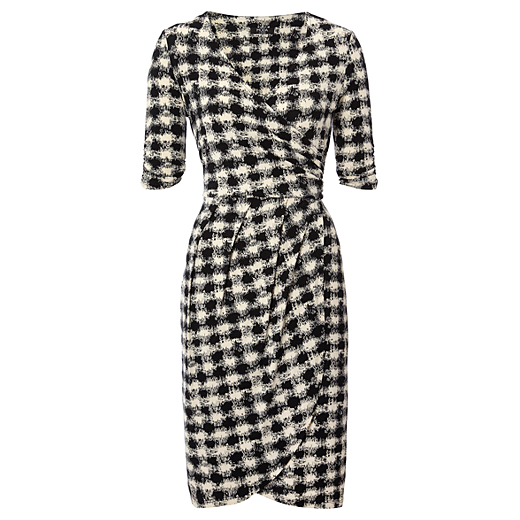 Image courtesy of George at Asda
How gorgeous is this dress?! I absolutely adored it but was doubtful as to how it would look/fit in real life so I held off placing an online order, even though it was available for the bargain price of £16 (full price!!).
When I was in Asda yesterday I had a good look around the George section and to my delight I found a whole rail of these dresses in sizes 10-24. After comparing a few sizes side by side I decided that the 10 would be best for me and I headed off into the changing room to try it on for size.
Please excuse my silly facial expressions and blurry pics!
I hope you will agree that this dress was pretty much a perfect fit on me 🙂 It's made from 97% viscose and 3% elastane, meaning that it is incredibly soft and stretchy, which works well for uber-curvy hourglass figures like mine.
Length-wise it's good too, falling just below the knee on my (I am 5'4).
The dress is a faux wrap-over style which actually didn't look anything special on the hanger so I feel very pleased that I'd seen it online beforehand and knew I wanted to try it. Even so, when I took it to the changing room I wasn't expecting these kinds of results!
The skirt wraps over and is fixed onto the waist seam. This means that you don't have to worry about it coming undone when wearing. There is a slim possibility that it could be blown open by the wind on a particularly gusty day but even so I don't think much would end up on display as the inner layer wraps round further than that of the front.
A slight gripe with this dress is that the skirt is gathered at the point where it is attached to the waist seam. My strong preference is for skirts that are flat at the front as extra material seems to made me appear heavier. However, this feature will suit other women who prefer to disguise their tummies. I minimised the effect by going for the smallest size possible, so that there was less spare fabric.
Considering this dress is only a size 10, it has a very generous amount of boob-room as it easily accommodates my 30KK bust. However, I was thinking of wearing this dress for work and I feel it would be slightly inappropriate to have this much boobage on display so I would wear a vest or camisole underneath to preserve my modesty as well as add a splash of colour. I think red would look stunning!
When I got home, I couldn't wait to try the dress on again…
I was so thrilled with how well the dress fitted that I pranced around the house in it for quite some time! It did not ride up and felt comfortable enough to wear all day.
You may already know of how I sometimes dye clothing when I find a particular shape or style I like. Well, this dress is a prime candidate for such treatment. I will of course keep one dress in the original colourway as I love the black/white monochrome look. But I also think that the white sections would look amazing if dyed to red, purple, blue or even yellow. I use Dylon machine dyes as they are reasonably priced and incredibly easy to use. My one wish is that they still made the stunning petrol blue dye they made a few years ago – if you know of a rich teal dye that will not run in the wash please let me know (I've tried Rit Dye and it just does not do the job, unfortunately).
When I get around to dyeing some of these dresses I will be sure to report back on here as to how I got on.


I hope so much that George at Asda will continue producing dresses in this shape but in different patterns and colourways. Personally, I'd love to see these in rich, plain colours but also patterns such as bird print, floral and tribal.
This dress is such a flattering shape so I am sure it won't remain in stock for long. If you fancy giving it a try yourself then either head to your nearest Asda or order online at your earliest convenience!