A blog post about swimwear might seem a little unusual at this time of year, but when the team at Marisota recently asked me to share their new infographic with my readers I wanted to do so straight away. Also, I know that I am not alone in considering taking a holiday over the Christmas break, so swimwear is something that we could potentially be purchasing at any time of year.


Marisota's latest infographic – found here – helps customers find swimwear that fits and flatters their figure.


Image courtesy of Marisota
Now, I know there is an ever-growing movement within the plus size fashion industry – and particularly amongst 'rad fat' plus size bloggers – to 'F*** Flattering' and encourage women to wear what the heck they want, and I support that wholeheartedly. However, for me personally, I do like to wear clothing and swimwear that flatters my figure, highlighting the good bits and helping to draw attention away from those areas I am less comfortable with. Doing this makes me feel good and more confident. So when an infographic such as this one from Marisota comes along I think there is definitely a need for it as there are many women who will find it of great help to them when deciding which swimwear they should try.


The infographic starts off by listing the most common parts of the body that women have issues with: tummy, boobs, legs, and bum. It also gives a few general pointers, such as using panelling and ruching to draw attention to the areas of the body you love. For instance, this Bespoke Fit Swimsuit is cleverly designed with ruching on one side so a tummy can be partially disguised if wished. On top of this, the placement of the snake print has been carefully chosen to create a flattering illusion to your silhouette.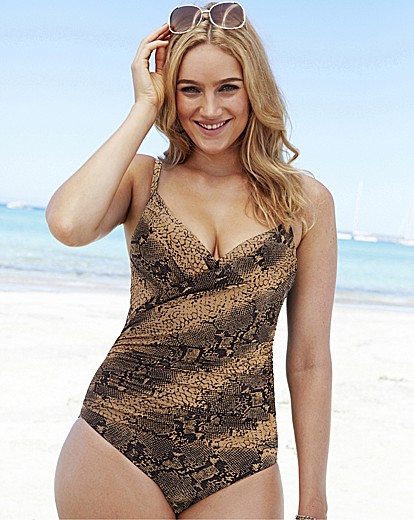 Image courtesy of Marisota


I think it's great that Marisota have backed up their claims with some facts and figures to help explain the need for infographics such as this; for instance, Marisota state that 77% of women agree that they like to wear clothes designed to enhance their best feature, and a whopping 80% also agreed or strongly agreed with the statement that they are interested in clothes designed to hide their worst bits. For anyone conscious of their tummy, a 'swimdress', such as this Sea by Melissa Odabash one, can be a good choice. The skirt covers the tummy and the hips and upper thighs, all of which are common gripe areas for women, and the garment is both stylish and supportive at the same time.



Image courtesy of Marisota


I am pleased to see Marisota using their helpful 'Shapeology' system in their swimwear as well as in their clothing ranges – if you go to the swimwear home page on the website you can choose from three options at the top of the page. These are: Shapeology for your boobs, Shapeology for your bum, and Shapeology for your tummy. Clicking one of these links takes you to a selection of swimwear that can help address each of these 'problem' areas, or of course you can simply browse the entire swimwear range and choose items for yourself instead if wished.


Here's a great example of a swimsuit that is a good option for anyone wishing to draw attention away from their tummy and/or hips: the Santa Maria Tummy Control Swimsuit. Its horizontal stripes across the bust area make the model's boobs look bigger, and attention is drawn to this and the underbust area – very often the smallest part of a woman's torso – as the lower half of the swimsuit is left plain and is therefore minimising.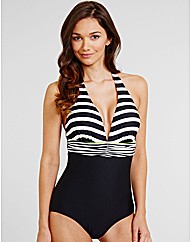 Image courtesy of Marisota


This swimsuit comes in a range of different colourways and options, and I am also rather taken with the Tuscany Stripe Tummy Control Swimsuit: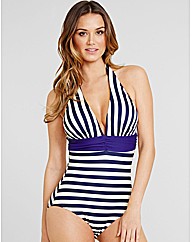 Image courtesy of Marisota


This time, the vertical stripes give a somewhat minimising effect on the bust, and the horizontal stripes on the lower half of the swimsuit add the illusion of curviness, thus making this swimsuit perfect for anyone who is top-heavy. The underbust area is highlighted with a contrasting blue ruched waistband, which helps to give the model's figure a real hourglassy appearance. Isn't it clever how small features that many of us often overlook can really make a difference to someone's appearance?


I applaud Marisota for giving women useful pointers if they need them, and they have some really lovely swimwear on offer to suit pretty much every taste. I have to say that my favourite so far is the Magisculpt Bandeau Swimsuit, as it creates an amazing silhouette, whilst also flattering the bust and smoothing the tummy:



Image courtesy of Marisota


Awesome, right? It's such a simple piece of swimwear but it really has the wow factor! I honestly don't think anyone should feel obliged to hide their curves or to keep their wobbly bits covered, but this swimsuit really is stunning and very cleverly designed.


So, next time you're thinking of shopping for a new bikini or swimsuit, don't forget to take a look at Marisota's swimwear range (especially the Shapeology sections) and to check out the tips on their simple infographic. Let me know what you think in the comments section below!


This blog post was written in association with Marisota, but the words and opinions are all my own.