A few weeks ago, a handful of lucky bloggers were invited to a fab event hosted by Evans: the Evans Shape Studio. I was thrilled to be one of them and duly trotted off to London to meet up with my pals.

The event was held at the Arcadia Group HQ and we were treated like old friends by the ever-wonderful Evans team, who plied us with fizzy alcoholic yumminess and scrumptious nibbles. We were given the opportunity to browse the forthcoming collections from Evans and some of their key ranges, including Scarlett & Jo and Live Unlimited.

On top of this, we were also treated to the pleasure of the company of the five bloggers who had been chosen to take part in an ad campaign for Clements Ribeiro at Evans: Georgina (Fuller Figure Fuller Bust), Bethany (Arched Eyebrow), Callie (From The Corners Of The Curve), Marie Denee (The Curvy Fashionista) and Nicolette Mason. Check out their blogs for more on this amazing opportunity, which was thoroughly well-deserved by each and every one of them.


So, this already sounds pretty good, right? Well, I haven't even got to the best part. The team at Evans had set up a temporary mini photo studio so that all of us bloggers could try on some of the new collection and pose for photos…professional photos! They even had a make-up artist and hair stylist on hand to offer their expert opinion and add finishing touches to our appearance for that perfect look.


Admittedly, the photo studio was a little quiet to begin with, as I think several of us assumed that it was primarily there for the Clements Ribeiro blogger models. But, once they'd arrived and had a few photos together, the rest of us couldn't resist the lure of the camera flash and so we took to the floor ourselves.


Carina from Evans had pointed out the gorgeous red and black side panel dress from Scarlett & Jo to me when I'd first arrived at the event and I was itching to give it a try. The clothing samples were in sizes 16 and 22 so although I would have preferred a 14 I couldn't resist trying it on.





The dress was just lovely on – you can read my review a little later on in this post. Being a size 16, it was definitely roomy on me but still it worked very well on my hourglass figure and, most impressively, covered my ample boobs without the need for my usual camisole underneath! The belt helped pull in the waist, which was rather generous, and my black tights and a pair of killer heels helped to complete the look.


Funnily enough, Georgina was wearing the blue and black version right at the same time so we took the opportunity to get some photos taken of us together. Naturally, our snaps included some silly poses and boob-grabbing.





I really wanted to try the blue and black dress on but Georgina was rather taken with it and I could see why! She looks simply wonderful in it – the shade of blue is just perfect and would complement most people.


We were duly joined by Hanna (The Wardrobe Challenge) and went for some more shots.





The middle pic makes me laugh for so many reasons. I don't think any of us had much idea what the others were doing so it ended up being rather a mish-mash of poses but I think it works!





I grabbed a rare opportunity to get a picture of Hanna and me together – when we meet up we're usually so busy chatting that we don't get around to taking photos so this was a real treat. And the fab photographer managed to get a great one of us both here.


After the event, Evans very kindly sent me the blue and black version of this dress in a size 14. It fitted much better than the 16 – so much so that I bought the red one shortly afterwards at Evans Marble Arch. I must mention the shop staff here, who are always so incredibly happy, friendly and helpful. On this occasion I had the pleasure of speaking to Daisy and Abigail B, whose customer service and wonderful, warm manners were so impressive. Great work, ladies.


I'm afraid the pictures I took at home using a camera timer on my iPhone do not come close to the quality of the ones taken at the Evans event but I hope you will still find them useful.



These pictures show the side panel dress worn without a belt. As I mentioned earlier, the size 14 fits me better than the 16, and I suspect a 12 would have been best of all.


Clothing sizing constantly baffles me as there's no way most of my 46-30-47 measurements fall within a typical size chart for a size 12. However I do find that in stretchy garments I often best fit a size 10 or 12 as it means the item fits well on the waist, and the fabric has sufficient give to allow for my generous bust and hips. This dress was no exception and the 98% polyester, 2% elastane fibre mix worked well on my voluptuous figure and was incredibly comfortable to wear.


I did find that there seemed to be quite a bit of excess fabric on the tummy, though, so I may have a go at trying to rectify this by making some alterations with a needle and thread at some point.


The dress has a hidden mesh panel underneath, which helps to smoothe one's lumps and bumps. I am wearing no shapewear in these pictures and only a thin pair of nude tights so the smoothing from the underskirt was a welcome bonus.


And, of course, a review from me would not be complete without the addition of a belt to my outfit…





It works SO well! The belt helps to pull the dress in at the waist, making the excess fabric there less noticeable. However, I do think it also caused the tummy area to become more baggy somehow, which was disappointing. I shall definitely have to see if I can make some simple alterations to the cut of the dress to make it lie better on the waist and across the tummy.


This dress would be perfect for work but could also be dressed up with accessories to make it appropriate for an evening out or even dressed down with a denim jacket to suit a shopping trip with the girls. Honestly, it's so comfortable and easy to wear that I think it would work for almost any occasion.


I just love both of the colours currently available. The rich blue suits my blonde hair, blue eyes and fair complexion, but the bright red adds vibrancy and a different edge to my appearance. I am keeping everything crossed that Scarlett & Jo bring this dress out in more colourways – I would love to see it in this season's statement monochrome black and white, in teal/petrol blue (naturally!) and also with a patterned front panel.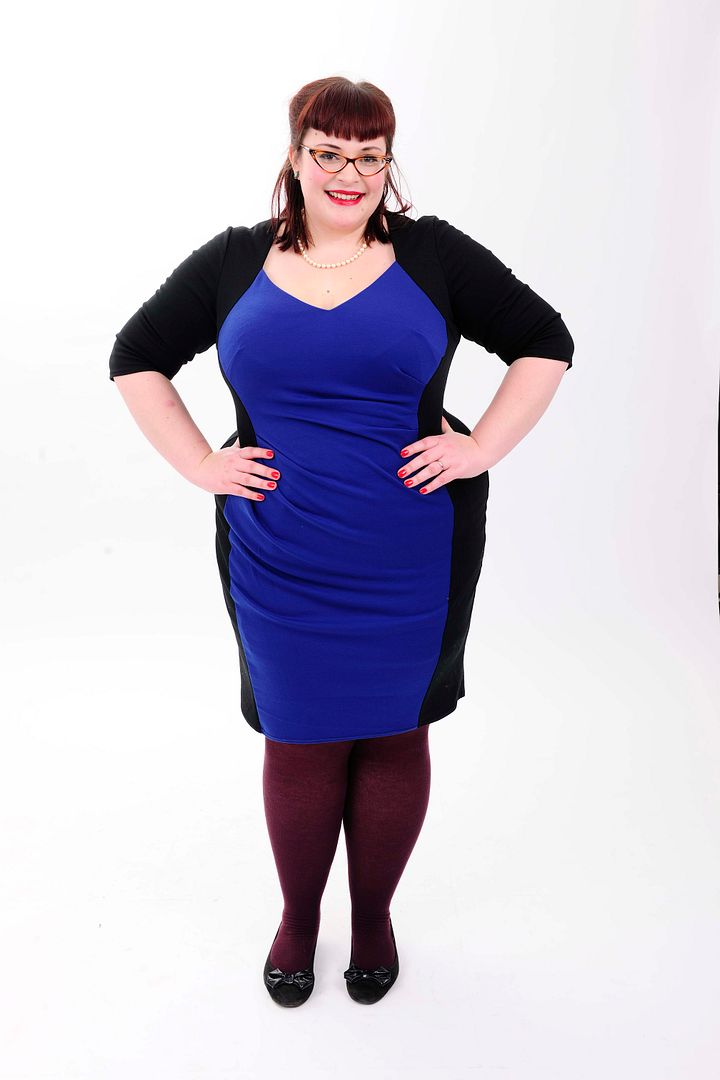 This dress has looked stunning on everyone I've seen try it. I particularly like it on the beautiful Frivolous Mrs D (pictured above).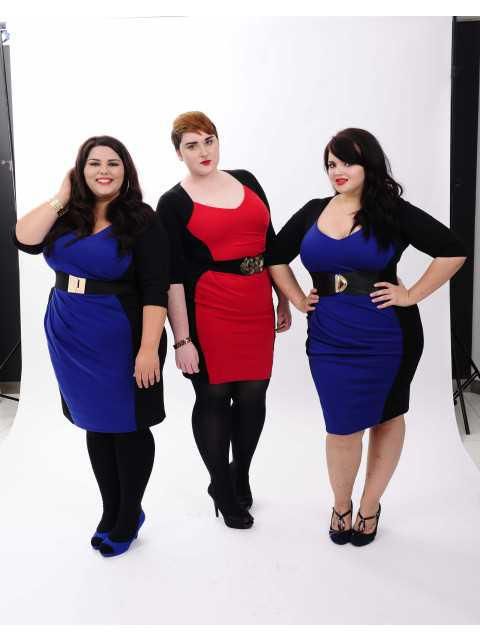 And, of course, it also looked pretty special on three of the Clements Ribeiro blogger models (from left to right): Callie, Bethany and Georgina.


Thanks so much to Evans for sending me the blue and black dress and for providing me with the professional photos from the Evans Shape Studio event. And thanks to the lovely team at Scarlett & Jo – it was a pleasure meeting you at the Evans Shape Studio event and again at BPSFW. Please can we all get together and have another modelling session again very soon??


And now…on to my latest giveaway. The wonderful people at Evans have offered a £100 voucher to spend on the Scarlett & Jo collection – what a fabulous prize! There are so many lovely items available and, if you make your choices carefully, you could easily get three (or more!) new Scarlett & Jo pieces for your wardrobe within the value of this voucher. Now all you need to do is win!


The competition is open to residents of the countries to which Evans delivers, which hopefully will mean most of you as that's over 100 countries worldwide. Pretty impressive, I am sure you will agree.


As usual, the entry system is incredibly straightforward as I didn't want to cause you too much trouble in order to take part. Just complete one, some or all of the options in the Rafflecopter below – some of them even give you the chance to gain extra entries by repeating the action each day so do make sure you take part as the more times you enter, the better chance you stand of winning.

a Rafflecopter giveaway





The competition closes at midnight GMT on Tuesday 19th March 2013 (i.e. Tuesday night) and I will announce the winner within a week of this date on this page, on Twitter and on my Facebook page. I will also send the winner a notification email. Good luck, everyone!