The lovely people at Simply Be have been getting in touch with some of us bloggers lately to help them promote their 'Find your perfect Christmas party dress!' campaign. I jumped at the chance when they emailed me – any excuse for more pretty dresses!


I had a long look through the items available at Simply Be and in the end settled on the Pleat Dress.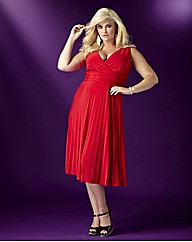 Image courtesy of Simply Be
I chose this item because it looked a lot like the Bonmarché Red Pleat Dress I reviewed recently. Also because the lovely Rachel from A Dress Is For Life blog reviewed it here and said it would have more boob room than the one I tried – always something that will make me more likely to give something a whirl!
Image courtesy of A Dress Is For Life
Doesn't Rachel look absolutely amazing in her dress? I love her accessories, too!
I've since discovered that my beautiful friend Mhairi blogged about it too here.
Image courtesy of Lilybobombs Lovely Lumps
Mhairi looks so elegant and demure – something that can be hard to pull off when wearing red but she does it with ease.
So, I had quite the acts to follow. After looking through the options online I decided to go for the red pleat dress (it also comes in black) in size 14, which was the smallest size available. There are three length options, which is terrific for taller, short and average height ladies, and I chose to go with tall – length 45″ – in order to match as closely as possible with the dress I'd tried previously.
Upon receipt of the pleat dress, the first thing I noticed was that the fabric was slightly different to the dress I'd tried in Bonmarché. This one was a little thinner and had a slightly smoother texture. I wouldn't say that one was any better or worse than the other; it's just that they differed slightly.


Apart from that, the dresses were very similar, apart from the fact the size 14 in Bonmarché came up a bit smaller than this one.


I love the crossover bust on this dress – usually very flattering and ideal for busty ladies – and the gathered ruched waist. In theory, this is a perfect shape dress for hourglass figures of any size.


Unfortunately, as you can see from my pictures, this dress lacked enough room for my girls in the bust area. It's a common problem of mine and usually I can overcome this by adding a vest or camisole, so that's what I'll be on the lookout for when I next go shopping. The alternative would be to sew in some kind of mini modesty panel, and this could easily be done by adding some red lace or material across the bust section. It's something I might try if I can't get hold of a matching vest or cami.


What's great about this dress is how high it comes up under the arms – no bra show whatsoever! This is fantastic as so often if the boob area is small then there is bra show at the sides as well as at the front.


The fabric of the pleat dress is 96% polyester and 4% elastane, which means it is machine washable and easy care. This is the sort of dress you can throw in the washing machine and then pop it on a hanger to dry. It will rarely (if ever) need ironing, which also means it is the ideal dress to pack in a suitcase if you are going away. It's so light and feels lovely and flowy when on, and the touch of elastane means there is a bit of stretch to help give the best possible and most comfortable fit.


Although you can't see from my photos, the tall length ended up being a little too long for me. I should have gone for the middle option – length 43″ – as I think the dress would have draped a bit better on me being that bit shorter.
I did find that although the 14 was a fairly good fit on my waist, there was quite a lot of spare fabric, as shown from the pictures here. However, if you ever find yourself in this position, don't give up! All you need to do is add a belt and all of a sudden the dress is everything you wanted it to be (except on the boobs)…
Ignoring the fact that the pleat dress is clearly still too small for me on the boobs, the addition of a belt really brings this item to life and makes it much more hourglass-friendly.
I must admit that when I took these photos it was late at night so I didn't tuck all the ruched waistband in as I will do when I wear this dress for real, which is why a few rogue bits of waistband are visible in my pics. Sorry about that. But it goes to show that if you want to do this sort of thing then you need a belt that is fairly wide as otherwise the ruching would be showing a lot more and I think that would look rather odd. If the waistband was flat then it might be ok but the ruched effect definitely needs to be either completely on show or completely covered.
I have chosen to add a black patent belt to this dress, which I think gives it more of an evening or party look. Instead, you could add a white belt, which would make it more daytime wear, possibly for a wedding or something similar. And I am sure other colours would look great with this dress, too.
I think a bolero or shrug would look terrific with this dress. As you saw from Mhairi's picture above, she added a lovely soft cardigan, which looked wonderful on her. Personally I would choose something like this shrug from Excite Clothing so that my waist was not hidden by the additional layer.
Image courtesy of Excite Clothing
Again, I think a whole range of colours would work with this dress and it would be fun to experiment with mixing and matching – how about a blue belt, shrug and shoes?
The Simply Be Pleat Dress is available in sizes 14-32 and in three lengths: short (40″), regular (43″) and tall (45″), and comes in black and red.