Ever since I got to try on an array of gorgeous dresses at Anna Scholz's London HQ during Plus London Two, I have been keen to add some of her pieces to my wardrobe. I mean, how can a girl resist beauties such as these…



Image courtesy of Anna Scholz

If I had an endless supply of money then I would surely buy the entire collection (both Black Label and White Label) as each piece is so exquisitely designed for the fuller figure…but sadly my budget does not stretch to these prices.


I am ever grateful, therefore, that Anna Scholz has been working with Simply Be for some time now to make collections that are available to those of us who shop at the low to mid end of the pricing scale. And as Simply Be are an online catalogue it's possible to pay in installments so customers can spread the cost of their latest fashion splurges!


The Autumn/Winter 2012 Anna Scholz for Simply Be collection has not disappointed and there are several items that I would love to add to my wardrobe.


I decided to give one of them a go recently: the Anna Scholz Contrast Pencil Skirt which is a bargain at £35.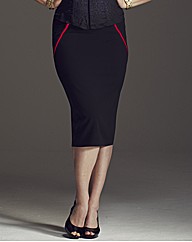 Image courtesy of Simply Be
This skirt looked like it would be right up my street – figure-hugging, sexy and sophisticated. As the fibre content was 62% polyester, 33% viscose and 5% elastane I decided to go with a size 14 (the smallest size available) to best fit my waist.
(Please excuse the poor photos but due to the layout of my house it's really difficult to get full-length shots without something (in this case, the bed and the drawers) getting in the way.)
The quality of this skirt was outstanding. The fabric was the perfect thickness so it wouldn't be too hot on milder days but would provide enough warmth in the winter months. The cut of the skirt was fantastic and I love how it very gradually and subtly tapered in down the lower part of the skirt, giving an amazing shapely silhouette.
I would not necessarily wear the skirt with this plain round neck t-shirt (H&M) but it was the only top I had that matched with the outfit. My wardrobe comprises only dresses and leggings so part of the reason for me trying this skirt was to expand my options. I threw on a sparkly necklace along with a dark red beaded one to try to add a complementary splash of colour, and I am wearing my gorgeous Nelly skyscraper heels to inject a bit of glamour into the outfit.
My first issue with this skirt is that I hadn't accounted for the unstretchy lining. Oops. In these pics I actually have the lining pulled up and bunched around my middle as there was no way in this world that I would have got the skirt on with the lining in place. I think I would have needed to go up to a 16 or even an 18 for that, but then the waist would have been far too big for me.
Lining aside, the skirt was generally a pretty good fit on me. I loved the length – 29″/74cm comes up just above mid-calf on my 5'4 frame – and there is a sexy split at the back of the skirt. The fit across the hips and bottom is snug but not uncomfortable on me, and I think if I had been wearing shapewear it would have been perfect.
I did find, however, that the waist on the 14 was an inch or two too big for me. This is not the skirt's fault though – I have quite a large difference between my waist and hips (30″ vs 47″) so I often have to compromise on fit to wear the clothes I want.
The skirt does not have a built-on waistband so I solved the problem by adding a belt, as seen in the first two photos. This worked very well but I wonder how many times I would have needed to adjust my outfit if I had worn it for an extended period of time.
In the end I reluctantly decided to send this skirt back as the waist and lining issues were too much for me to overcome. However I would not hesitate in recommending this skirt to others – the quality and cut is really quite outstanding.
I can't wait to try more Anna Scholz for Simply be items in the future – you can see the whole collection here.