My first proper post will be about bras.  I LOVE bras.  Which is a good thing seeing I have had big bazookas for as long as I can remember.  I think I am currently a 36J (depending on the brand), which is the largest cup size I have ever been.  For the last few years I was a 36H but for some reason in the last six months or so my boobies decided they wanted to expand even further.  I don't mind as I love having large breasts but it did present me with the age-old dilemma of buying some new bras.
I have tried many brands over the years but for the past 6-8 years the best by far, for me at least, was Freya.  Not all of their styles, I hasten to add, but in particular the amazing Millie and the sexy Eleanor.  
The Millie was a super-comfortable, wear-anywhere bra that gave excellent shape, slight uplift and did not show under tops.  It was my favourite style by a million miles.


Available in colours including white, black, nude, fawn and pink, it was a great lingerie drawer staple.  I was utterly flabbergasted when Freya decided to stop making it a couple of years ago.  Little by little the stock has been run down and now it is very difficult to find more than one or two of these bras available in any particular size, and the colours on offer are only black and white.
I have emailed Freya through their website on several occasions over the past year to ask why they had given this bra the boot.  I have also emailed them about other things in the past but I'm sorry to say that I have never received a response to any of my messages and this has left a sour taste in my mouth.  It was like being rebuffed by someone I considered an old friend.
Freya's Eleanor was a simple bra, again available in various colours, which could be worn on different occasions to suit one's needs.  The fact it was semi-sheer added a hint of naughtiness, which is all good of course!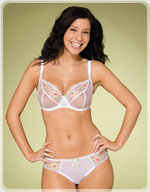 I owned the Eleanor in a dark sage green, pale green and white (I was never fortunate enough to gave the opportunity to get it in red – isn't it stunning?).  I later hand-dyed some of them so I had more options and ended up with two in emerald green and one in deep purple.  Gorgeous!
Again, this style has sadly been discontinued.
A quick search of the internet will give you links from helpful people suggesting various Freya bras similar to Millie and Eleanor.  However, for me, none of their other styles, new or old, have been any good.
This left me in a bit of a pickle.  I was very quickly wearing out my 36H Millies as I was, by this point, a 36J and possibly more at certain times of the month.  I decided to take serious action and ordered as many Millies as I could from Figleaves, even though their prices were higher than I would have liked to have paid (however, their excellent service makes up for that).  Unfortunately I struggled to find a good fit from these bras, trying a 34HH, 34J, 36HH and 36J.  Some were too small but others, although not necessarily too large, did not give a nice fit/shape, which confused me as the 36Hs had served me perfectly for so many years.  In desperation I went with the 36HH, returned the others and exchanged them for more 36HHs.  However, after only a week or two of wear, I found these bras quickly lost their shape and the wires in the centre gore were poking out away from my chest.  Not comfortable at all.  And back to square one 🙁
After a visit to Leia at Bluewater (and being helped by a lovely member of staff), I bought a Pollyanna in 36HH.  I was delighted with my purchase at first…but, you guessed it, after a couple of wears the fit simply wasn't right and the bra felt increasingly uncomfortable.  Yet another item on eBay then…
I also placed a large order with Bravissimo after reading reviews that some of their own brand bras were similar to Millie and Eleanor.  On a whim, I threw some Panache options in to my basket to see if my experiences of previous years, that their bras put my boobs in my armpits and were mostly very uncomfortable, could be proved wrong.  Again, the service was excellent and the items arrived beautifully packed.  But, you guessed it, I sent the whole lot back.  
Until this point, for me lingerie ordering was similar to taking a drug – the high I'd get from the thrill of adding bra after bra to my basket, hoping beyond hope that they might fit me properly, to the sickly feeling once I realised how much money I'd spent and that probably most, if not all, of it would have to be sent back.  Then I'd get so excited when the parcel arrived but, slowly, as I tried each bra on, the come-down would take full effect as it transpired that not a single thing fitted properly.  The worst thing was that I then had to pack the items away and return them – often at my own cost.  So I'd paid for this pain.  By the end of this process (which sometimes caused me tears), I would feel wrung out like an old dishcloth, completely demoralised and miserable.

I hate to leave my story at such a depressing moment but this post is already rather long so I have decided to split it into two.  Click the 'Next Post' link below to go to the next part of my tale.