Just before Christmas I received a parcel that made me super excited. It was a selection from the current range of lingerie from Polish brand Ewa Michalak. It's been about a year since I last had a delivery from them, and I had pretty much grown out of my 32KK/70KK bras, so I was very eager to try the new pieces.
One of the sets of lingerie the parcel contained was the PL Jagodzianki Bra and Briefs.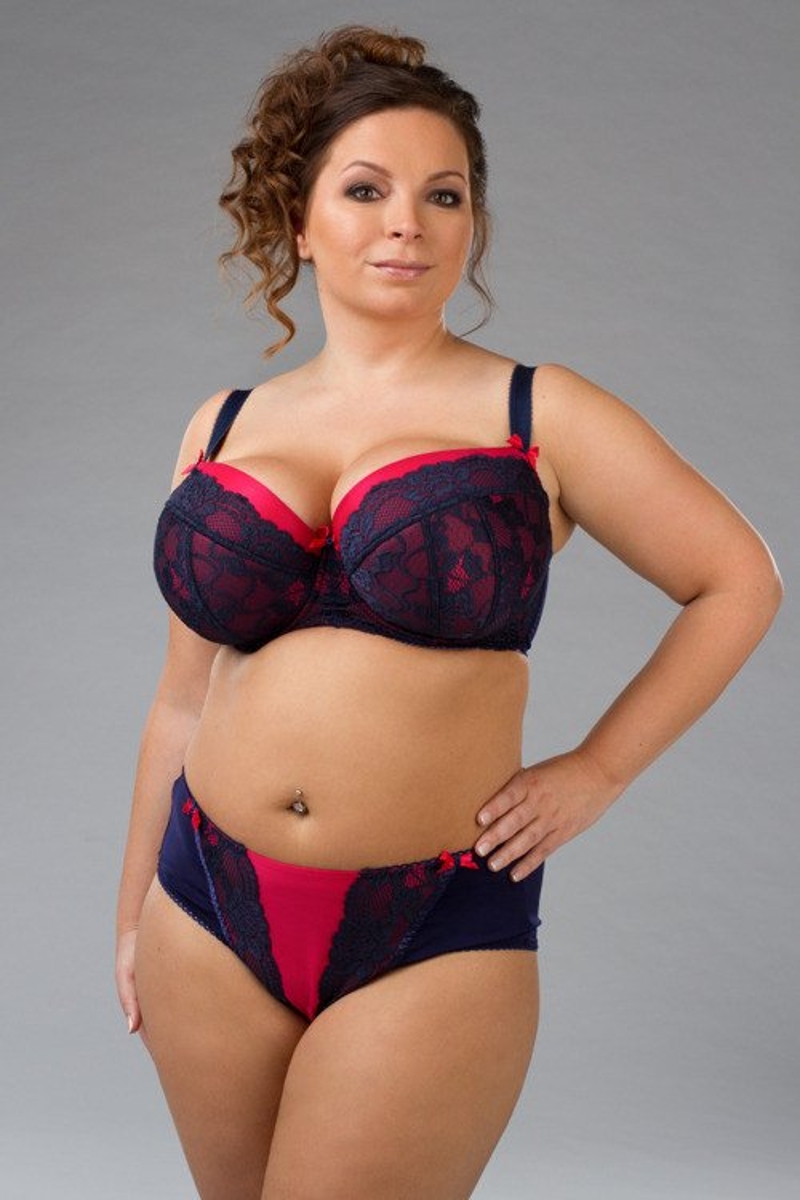 Image courtesy of Ewa Michalak
It cleverly combines inky navy blue with deep fuchsia to produce a set of lingerie that is so vibrant that it almost pops out of the screen.
In the past I have worn 30L/65L and 32KK/70KK bras from Ewa Michalak, but as I've put on a bit of weight recently I decided to size up in both cup and band. I therefore received the bra in 34KK/75KK and briefs in 16/44, and in these photos I have teamed the set with my black Prague Lady Microfiber Opaque Hold-ups from The Big Tights Company (I would love it if they made them in navy!) and black platform stiletto heels from Primark.
The Jagodzianki set is absolutely beautiful in real life. The colours are rich and deep, and combined together they are even more stunning. The fabrics feel gorgeously soft and are so comfortable to wear.
The bra is a 'PL', which means that it is a plunge bra. I haven't had a bra in this style for quite some time so it was wonderful to try it on. At my end of the cup size scale, I must admit that there isn't a huge amount of difference between PL bras and S bras (padded balconettes), but I can see that the PL cups provide less coverage than those of the S bra.
The four part cups are designed to give maximum uplift, shape, and support. The cups are made of thin foam, and there are removable pads in the bottoms of the cups to help correct asymmetry. The pads can also offer a little extra uplift if wished. I am not wearing the pads in these pictures, but when I wore the bra last week it was with the pads in place. I feel that this bra fits me best without the pads, as their addition leads to slight quadboob, but I know I will go for the extra lift if I'm wearing a low cut top or dress.
The cups are made of fuchsia pink fabric covered with navy stretchy lace. There is a small pink bow on the central gore, and also on the point where the straps join the tops of the cups. The bows have a navy blue centre, which is a lovely touch and a great example of the attention to detail that you get with any Ewa Michalak lingerie piece. The insides of the cups are lined with black cotton.
As ever, I adore the narrow wires of Ewa Michalak bras, and the PL Jagodzianki has not let me down. The wires comfortably encase my breast tissue, both on the main breast area and also under my arms. The central gore sits perfectly flat on the sternum and the wires don't dig in or go to far into my armpits.
PL Jagodzianki's band is very stretchy, and fastens with three rows of three hooks and eyes. I fasten the bra on the loosest hooks and it feels perfectly comfortable. I do suspect that I will shortly be moving to the middle hooks, though, as the band is semi-loose.
The straps are fairly wide and are fully adjustable. I have found them not to be the thickest straps I've ever worn, and so the elasticated fabric feels overstretched already. I hope they last a long time despite this, but if not it should be pretty easy to buy a cheap navy bra somewhere and to transfer the straps from that to the Jagodzianki.
And now, on to the briefs. They have somewhat of a 'boy short' cut to them, and are extremely comfortable to wear. I feel the 16/44 was a good size for me, although the top band digs into my soft hips a little. However, they are very slightly baggy on the crotch area so if I'd sized up they would have been far too big there.
The briefs are mostly made of a super soft microfibre fabric, with a fuchsia pink central panel edged with navy blue lace. There are two pink bows on the front of the briefs, and one at the centre on the back. The gusset is lined with cotton fabric for comfort.
I am extremely impressed with this set and know it is one I will wear time and time again. It is so fantastic that even we large cupped ladies can wear undies that are sexy, colourful, and comfy!
Stay tuned for more Ewa Michalak lingerie reviews coming soon!