I've had a few Ewa Michalak lingerie sets in my possession for quite some time that I haven't got around to reviewing yet, so today I am going to be showing you the S Pieprzyk Bra, Briefs, and Thong.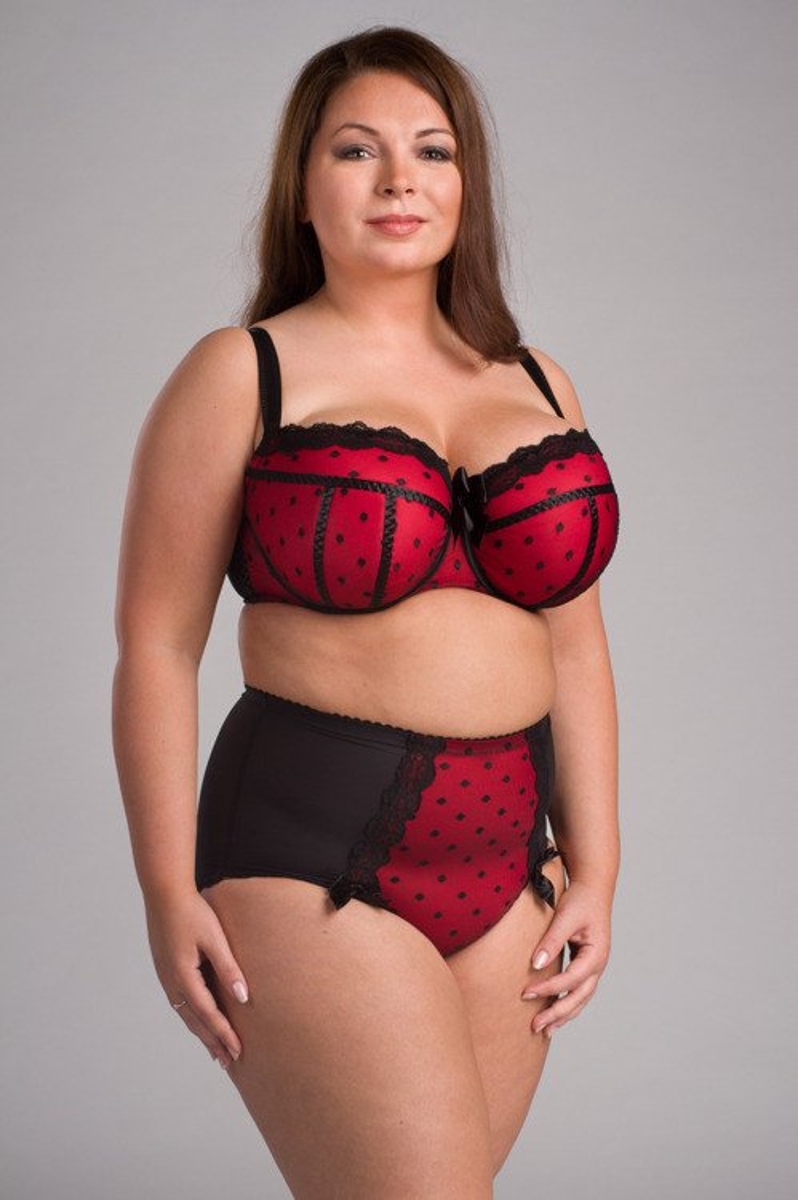 Image courtesy of Ewa Michalak
Wow, this set had me at polka dots. And then it had me at high-waisted briefs. I was so excited when I learned that Ewa Michalak would be sending me this set to review, and I hope it doesn't sound terribly ungrateful when I say I was disappointed not to get the high-waisted briefs. However, any disappointment I felt soon abated when I discovered I was being sent two knicker options: the regular briefs and the thong.
I was sent the S Pieprzyk bra in 32KK/70KK and the briefs and thong in 18/46.


As you can see, this set is absolutely lovely! It comprises deep fuchsia pink/red fabric covered with polka dotted lace, as well as black mesh panels and black lace edging. All items also feature big black lace bows for a bit of pizazz!



The S bra is simply a lightly padded balconette and it's one of Ewa Michalak's newer bra style. At one point it seemed to have replaced the much loved PL (plunge) style, but I see that fortunately EM has brought out some new PL bras in the past few months.


The S Pieprzyk Bra has lightly padded foam cups, with extra pads in the bottoms of the cups. These are designed to help correct the appearance of asymmetric boobs; you can wear one pad on either side, on both sides, or even two pads on one side if wished. Wearing a pad on each side provides a boost to your bust, and in these photos I am doing just that. However, having worn this bra a lot since it was sent to me I now wear it without the pads as I need all the room in the cups I can get!


The cups are made up of four parts, which are shaped and cut to give you the most amazing uplift, support, and shape you have ever experienced. The S bra provides plenty of forward projection so it's ideal for someone like me who has narrow roots, i.e. my breast tissue is all at the front of my torso, rather than spread round to the sides. The deep cups are wonderful and don't squash my boobs into submission.


The narrow underwires of EM bras is something I absolutely adore as once again my 'up front' boobs require narrow wires but deep cups. The S Pieprzyk Bra suits me perfectly – its wires encase all of my breast tissue and holds it in its natural position. The central gore lies perfectly flush against my sternum and feels very comfortable.


As ever, this bra features Ewa Michalak's wide but not too wide straps. The ones on this bra are fully adjustable and have textured edges so that the oblong adjusters don't move during wear.


I found the band of the S Pieprzyk Bra to be very firm and definitely on the tight side. I have to wear it with a bra band extender, which are available to buy from the Ewa Michalak website here. The band fastens with four rows of three hooks and eyes.


As you can see from the photos above, I first of all tried this set with the thong. It's a size 18/46 and fits me well. The black mesh is fantastically stretchy so it's ideal on my curves. I adore the lacy frills along the lower edges of the thong and they add a cheeky French feel to this underwear. The little bows at the front and back are also very cute.


I was also kindly sent the briefs in a size 18/46. These were again a good fit but I do find that with EM knickers the briefs tend to be a little less forgiving than the thongs. However, once more the stretchy black mesh served me well and made these briefs very comfortable to wear. The rear of the knickers is completely see-through and the frills above frame one's derriere almost like curtains, making it like a view onto a stage or through a window! The front of the briefs has a small polka dot modesty panel but beneath it there is sheer black mesh before the cotton-lined gusset, providing an incredibly sexy peek-a-boo feature. I have made sure my boo is hidden – only just!! The pictures below show me wearing the bra and briefs with my beloved Prague Lady Microfiber Opaque Hold-ups from The Big Tights Company and my stiletto platform heels from Primark.





This is yet another Ewa Michalak bra that has become a firm favourite, although I do need to be careful not to wear it under plain fabric as sometimes the polka dots can show through.


I hope Ewa Michalak brings out this bra in other colours – I'd love one in electric blue! What would be your favourite colour for a polka dot bra?