A few days ago I posted my review of the Ewa Michalak S Porcelanka. The 'S' bra is kind of like a padded balconette that centres the breasts on one's chest and projects them forwards. You might be thinking, 'Well, isn't that what a bra is supposed to do?' Actually, bras do lots of different things to boobs (especially larger boobs) so it's important to know what type of bra suits your boobs best.


Today's review is the Ewa Michalak S Satine.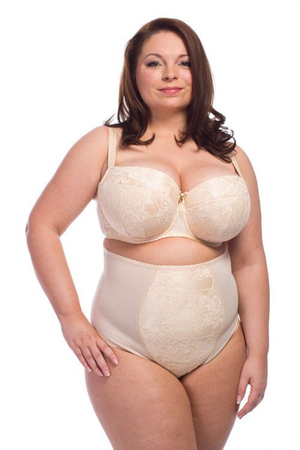 Image courtesy of Ewa Michalak
This bra reminded me somewhat of the PL Perelka I bought a couple of years ago, and it is a similar colour and design. It's a lovely honey beige nude and is a great variation on a basic 'nude' bra as the lace covered cups make it pretty and feminine.
Ewa Michalak very kindly sent me the S Satine in 32KK/70KK.
I found the 32KK/70KK to be very tight in the band and I think it would have been better to sister size up to 34K/75K in this one. As it is, I can wear it with an EM extender quite comfortably, although it would be preferable not to have to do so. Ewa Michalak have noted on the website that this one runs tight in the band so it's something they are aware of, which is good. The band fastens with three hooks and eyes, and there are four rows of eyes so plenty of option to adjust the tightness of the band as required.
The S Satine is soooo pretty. As I mentioned earlier, it has lace overlaying the satin cups, which are lightly padded with foam. There are removable pads in the bottom of the cups to help correct asymmetry, and I have them in place in these photos. I don't need them for asymmetry but I find they give a bit of extra support and rigidity to the cups, which is good news for those of us with large and heavy boobs. And the pads are easy to remove if you need a bit of extra room.
The cups give a lovely rounded shape and my breasts are uplifted and centred on my chest. The S bra doesn't quite give the amazing cleavage of EM's renowned PL (plunge) bras but they're not far off! I find the S cups give more coverage than my PLs, which is great for restricting movement and spillage, and when wearing S bras I don't have to adjust my breasts in the cups quite as much during the day.
The wires are narrower than those used on the majority of UK bras and they fit me really well by perfectly encapsulating all of my breast tissue. There is no overspill at the sides and no empty space either. The wires come to a good place under my arms so they do not poke and rub. The central gore sits flush to my chest and does not press too hard against my sternum.
The straps adjust fully and have embellishments along the sides so that the sliding adjuster does not move with wear. However, whilst trying this bra on I noticed a problem I have with the straps. Although they are lovely and wide, the fabric they are made from is very thin. Whilst trying the bra on and taking photos, the straps folded over themselves and then stayed that way, as you can see in some of my photos. This is less than ideal as if the straps fold over they become thinner in width and therefore put more pressure on the shoulders. This could be solved by sewing ribbon to the straps to help thicken them but I think for me the easiest solution will be to buy a cheap bra in a sale and to swap the straps over to the S Satine. I do think the straps are more likely to fold over because I am wearing the bra with an extender and therefore the straps are not quite in the intended position, so this might not be a problem if you get the right band size in the first place. For now, I am solving the folding problem by wearing my bra straps cushions with this bra.
S bras are great for anyone with softer boobs who is looking for a bra that has great support, shape and uplift. Apart from the tight band and slightly iffy straps, the S Satine is a great choice for a neutral colourway – I just wish I'd been able to get the matching super high waist briefs, too!