Very recently I posted about the lovely George at Asda Moda Floral Jersey Wrap Dress. It's a shape I love as it nips in at the waist but is also generously sized over my voluptuous boobs and hips. The result is a great look for hourglass figures in particular, but the dress would also work for pears and other 'typical' body shapes.


I also have this dress in the original Moda Printed Jersey Dress, and even dyed several to give myself more wardrobe options.


I could hardly believe my eyes when I saw that George at Asda had brought out yet another variation of this dress shape – the Moda Lace Print Dress in burgundy and black.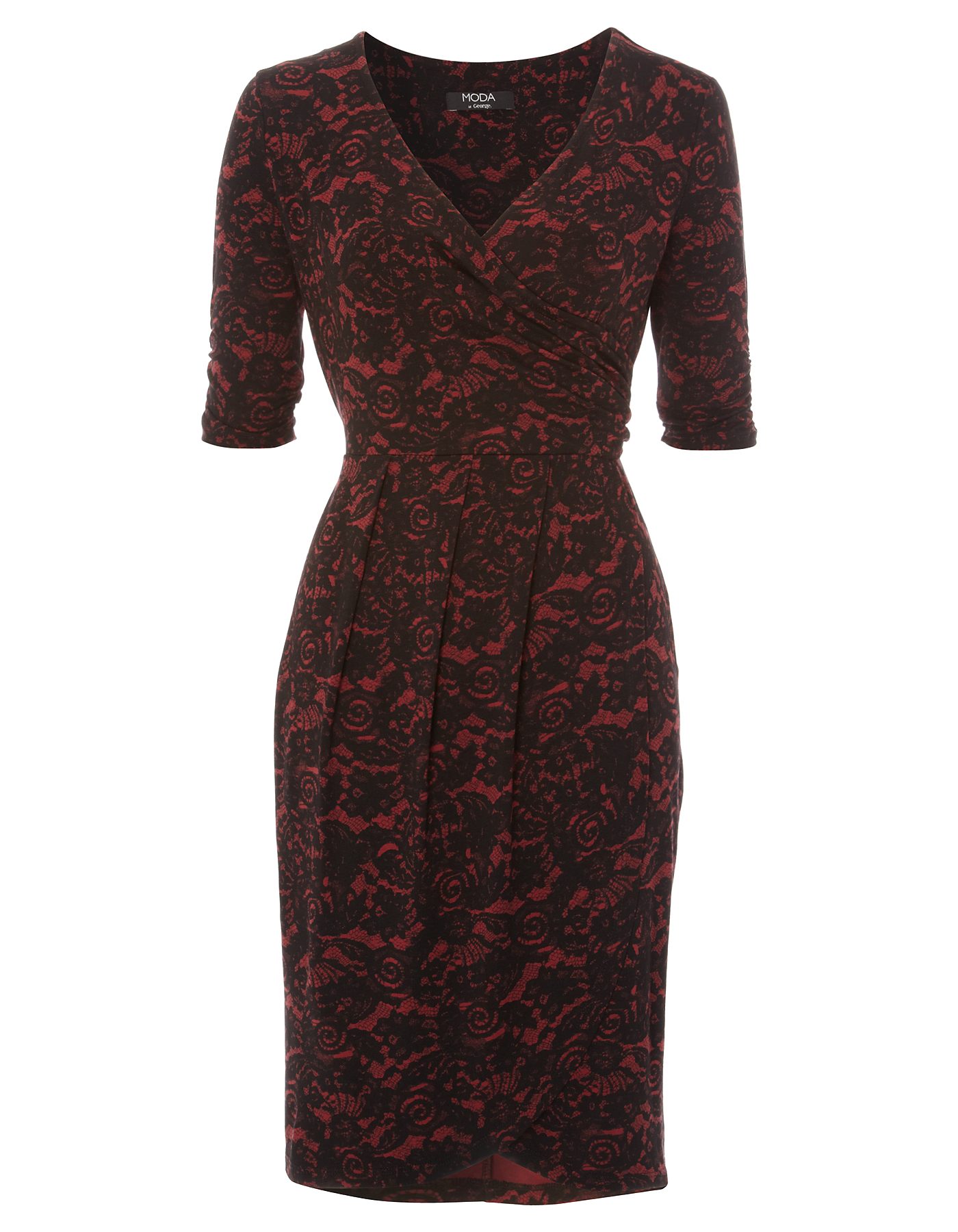 Image courtesy of George at Asda
See how the shape so naturally comes in at the waist but is flattering and roomy in other areas? This really is a dress of champions.
As size 10 had sold out online (as usual with these dresses – Asda please fix this!), I scoured my local stores to see if I could find any in stock. I tried three different stores before I finally happened upon two, which I snapped up immediately.


I was so excited to get home and try them on:





(Please forgive my silly pose in the end pic but I got a bit carried away!)


Wow! This dress is every bit as lovely as its predecessors and has the added bonus of being bang on trend with a lace print. It feels very festive with its dark red colour and it is feminine and fun.


I am wearing this dress with a vest underneath for modesty but it could be worn without (as I have done in my other posts on this shape dress) for a more revealing look.


The fabric is pretty much identical to that used in the black and white dress, and you can see from the photos that there is much less shine.


The skirt just about covers my knees and wraps over across the tummy. It's a very girly look and although I was nervous with my original dresses that the wind might blow the skirt open I have never actually had a major problem with this. In any case, if it did happen, the sides of the skirt are attached about halfway down the thigh so it's not as if you'd reveal an awful amount.


The three quarter length sleeves have a ruching detail which is a nice touch. I suppose they are elbow-length sleeves, rather than true three quarter lengths, as they cover just the top half of my arms. Three quarter length sleeves should cover the elbows as well and extend partially over the forearm.


This dress is fairly generously sized so make sure you buy the size that will fit your waist. The stretchy jersey is very forgiving and will shape to your body to give a fantastic fit.


At only £16, this dress is an amazing bargain. And the quality is also outstanding. The dresses I dyed have been worn over and over again and not a single one has any pilling or signs of wear, which is more than can be said for some of my more expensive purchases.


George at Asda have done a great job in designing a versatile dress that will work brilliantly for many women, which is available at an extremely affordable and appealing price. Well done, George – please bring out many more of these in a variety of colourways. My current personal request would be this dress but with a rich royal blue background. Yummy!


Click here to see all dresses currently available at George at Asda.