I've made no secret of being a huge fan of George at Asda clothing and in particular their Moda range. It suits my tastes so well – simple, stylish, feminine and flattering.


I was over the moon when I discovered that they had brought out a new fabric design in their classic Moda Jersey Wrap Dress – this time heading in a floral direction!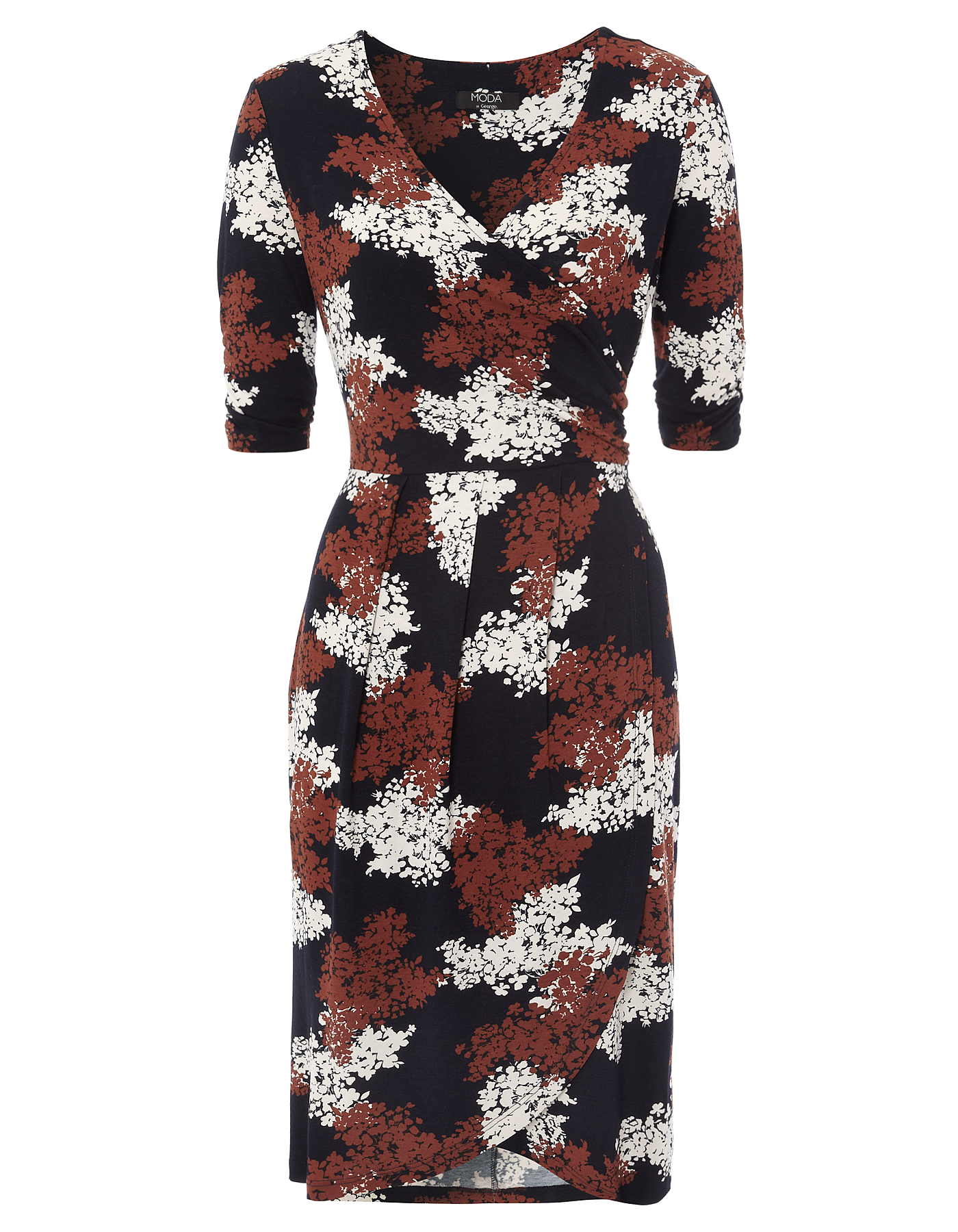 Image courtesy of George at Asda
The Moda Floral Jersey Wrap Dress. Such a lovely combination of colours – and perfect for autumn!
I tried ordering some of these dresses online but the 10 was consistently sold out. Instead, I checked my local stores and eventually managed to get my hands on two of them.
You'll notice from the photos above that this dress is slightly more see-through than the Moda Printed Jersey Dress I already own (and the dyed versions). The material is very slightly thinner and has a hint of a sheen to it. However it is barely noticeable in real life and is only picked up here in these photos thanks to my camera flash.
I love this new colourway! The navy (yes, navy; not black!), burnt orange and off-white hues blend so perfectly together to create an elegant but everyday wearable dress to die for.
I found the size 10 to be slightly snugger than the previous Moda wrap dresses I've tried so I gave it a whirl in a 12 as well but it felt like I'd gone up two dress sizes! So do bear in mind that the 10 is a bit smaller but the 12 fits like usual.
The fibre content is 97% polyester and 3% elastane, meaning that it can stretch to fit your curves. As you can see, I choose the size which fits my waist best, but that means it's a little too small across the bust. I need to get my hands on a nice navy vest to wear underneath for modesty – I don't think this amount of cleavage would be appropriate at my workplace!
I love how these dresses wrap over and shape themselves around my body. This style suits hourglass figures so well and can easily be dressed up or down. If I want a bit of extra va-va-voom I can add a chunky waist belt; if I want to hide my shape I can add a long cardigan.
I had wondered if this dress might be worth dyeing but it would be wrong to introduce another colour to this beauty. So, instead, I have two of these dresses and I know I will get heaps of wear out of them, both at work and on social occasions.
Before posting this review I had a quick peek on the George at Asda website and was sorry to see that somehow I'd missed out on this beauty: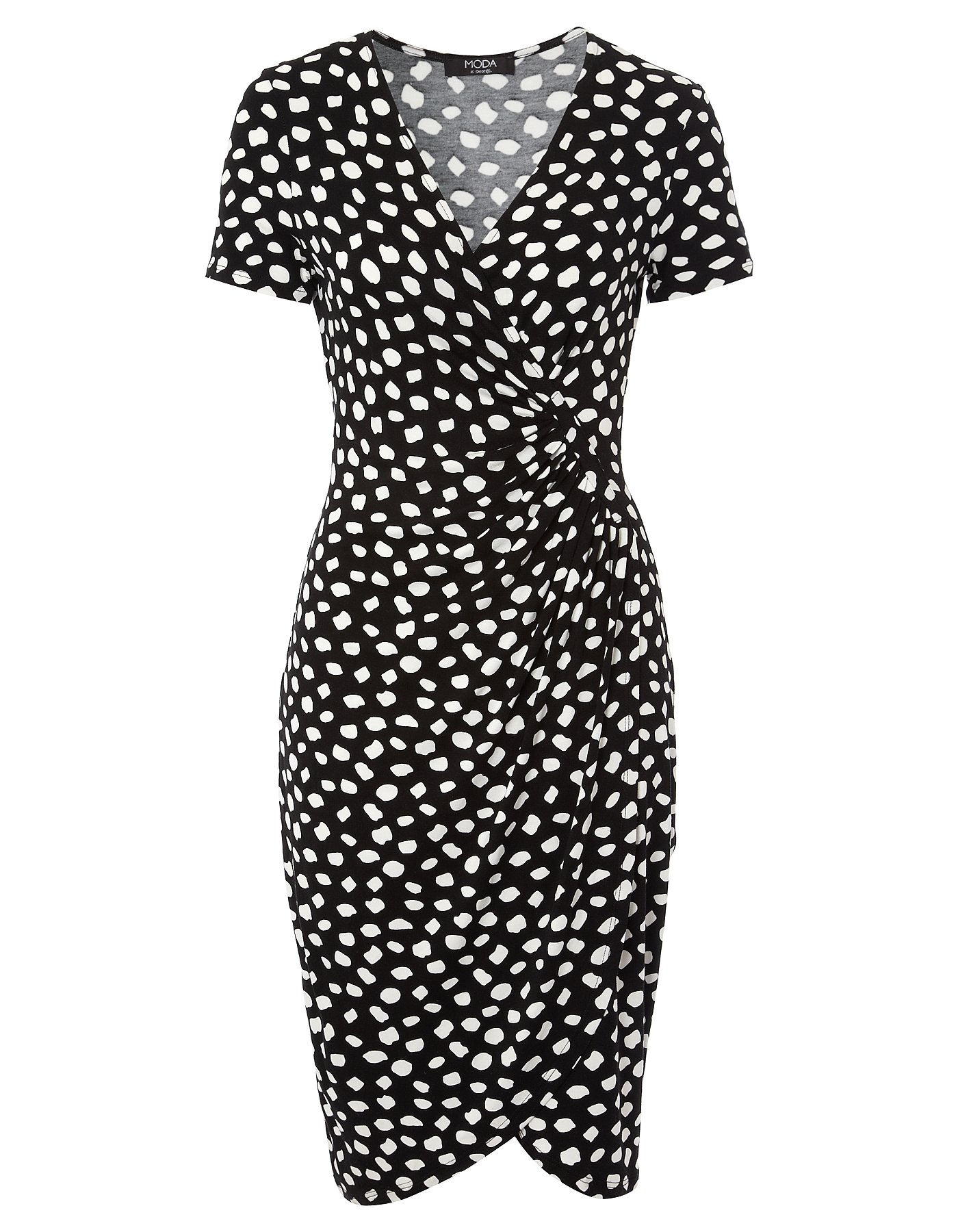 Image courtesy of George at Asda
I LOVE this! It's not quite the same shape as my other Moda wrap dresses but is very similar. And I adore the pattern…need I add that it's crying out to be dyed?! It's still available on the George website in larger sizes so if you see your size make sure you grab it while you can.
And what about this: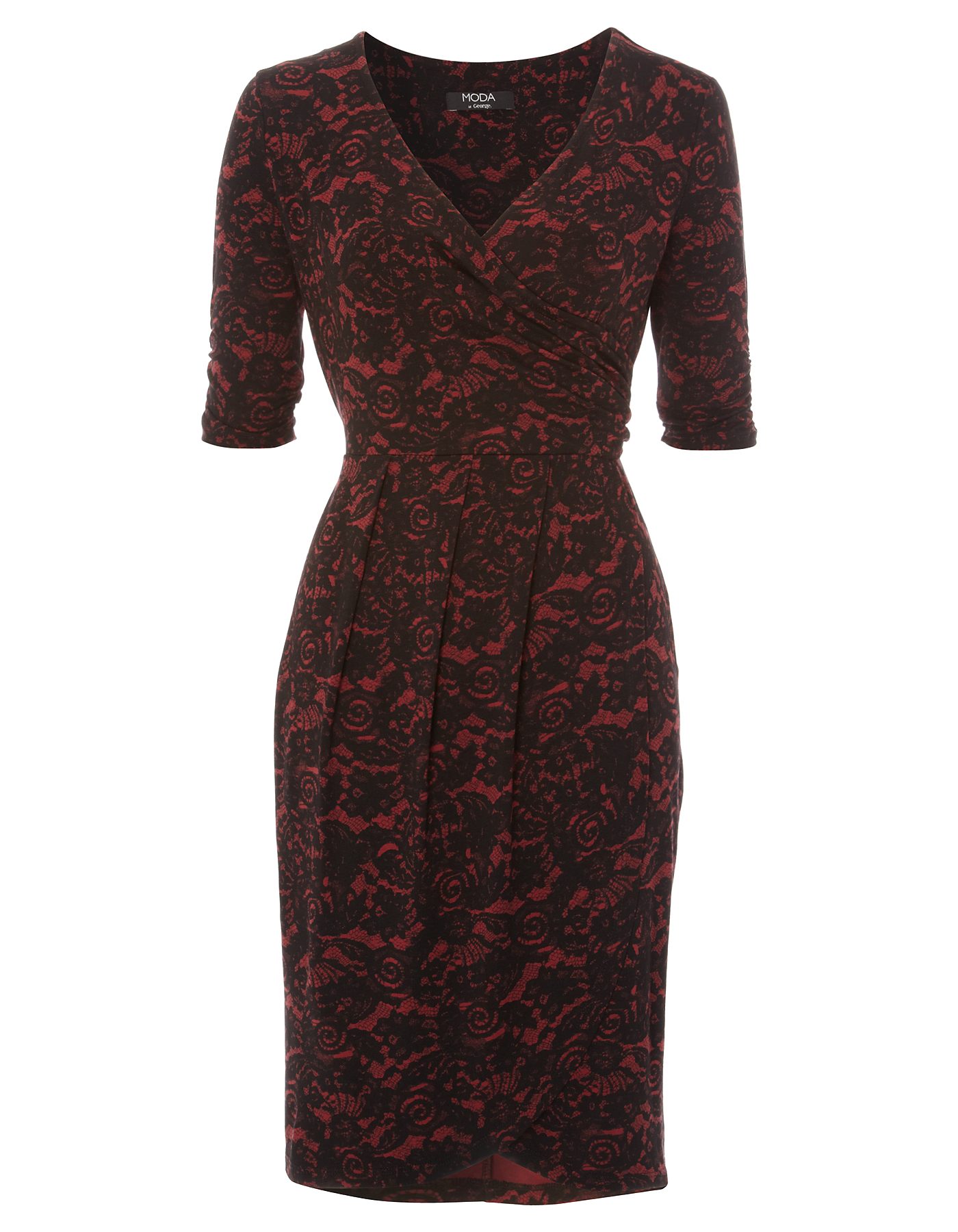 Image courtesy of George at Asda
I actually did a little scream when I saw this one. Eeeeee! Just GORGEOUS!! Again, it's sadly not available in a size 10 online (note to George at Asda – please sort this out asap!!) but I will be stalking my local stores to find one to review as soon as possible.
George at Asda: you have made a real winner with this dress shape. Please keep reproducing it (perhaps with long sleeves for winter and short sleeves and sleeveless for summer…?) for many years to come. And how about a competition for us to design new fabric patterns? Now that would be fun!